Freelance writing jobs are one of the best ways to work from home.
With freelancing, you can work your own hours and set your own pay. Finally, you can be your own boss!
You don't even have to be an expert writer. Freelance writing is the perfect side hustle for beginners.
The best part about freelance writing?
You don't even have to work from home. Why not work from a nice remote sunny beach?
The demand for freelance writers is only continuing to rise. Increase demand means it will only be easier for you to find work and earn more money.
So how do you get started as a freelance writer?
Today's article is all about helping you get your first job as a freelance writer.
This article may contain affiliate links which provide a commission and supports this blog. Thank you for your support!
What are freelance writing jobs?
So what is a freelance writer and who's hiring?
Journalism has always been a career that has stood the test of time. People want to consume content through writing.
Writing began as a way of communicating and passing down knowledge through the ages.
Newspapers and magazines sprung up as a way of making money off of communication. If you wanted to know what was going on in the world then you had to pick up a newspaper!
Related: Work from home jobs that actually earn you money.
Now our lives are highly digitalized which gives writing endless opportunities to spread through the internet.
Every day a new website pops up and needs content! You no longer need to work for a major news station if you want to succeed as a writer. You can easily leverage these website and blogs to earn money freelancing.
Blogs are often ran by one person and generating a lot of content takes work. When a blog becomes popular and earns money, writers are first to be hired.
There are millions of blogs and websites in need of content. A variety of blogs means your freelance writing jobs can cover a broad spectrum of topics like personal finance, health and nutrition, or parenting!
Your job as a freelance writer is to connect with bloggers and website owners and get paid to write awesome content.
Are freelance writing jobs legit?
Starting a home-based freelance business may seem sketchy. I mean, can you even get paid to be a freelance writer?
Thanks to the internet, finding online work has become easier. Unfortunately, the internet has also made it easier to scam and be scammed out of your money.
Fortunately, freelance writing is legitimate and you can be paid to work from home! Successfully writing freelance depends on the amount of effort you're willing to put into your freelance business.
Jamie Cattanach writes about their experience earning $50k in their first year of freelance writing. Their results were a direct result of how much effort they put into reaching out and obtaining clients.
You will need to decide how much effort you are wanting to put into your freelance business. How much money are you looking to make each month? Are you wanting to be a full-time freelancer or only work part-time?
Later in this article, I will show you the exact steps you need to take as a freelance beginner.
Click to Tweet! Please share!
Click To Tweet
Is it possible to get freelance writing jobs with no experience?
If you are just starting out freelancing you may be wondering if it is possible to earn money as a beginner.
You have no experience writing freelance and you probably don't have an English degree. The awesome part about starting your own freelance writing side hustle is that it doesn't matter if you have a degree or any experience!
A beginner freelance writer is your typical student who writes between classes, teachers who write during summer break, or moms who write during nap time. Some are professional freelancers, but you don't need to worry if you are just starting!
At the very least, you'll want to have a basic understanding of how to write an online article. Your writing will naturally improve the more you write and you'll be able to charge more for better work!
What do freelance writing jobs pay?
So how much money do freelance writers actually make?
One of the most important decisions is to decide how much money you'll charge for your writing. Charge too much and you won't gain work, but charge too little and you'll leave money on the table.
Luckily, a 2018 survey by Clearvoice helps answer how much you should charge for your freelance writing jobs. I'll dive into the results in a minute, but first you should understand what Clearvoice considers a beginning freelance writer.
How are freelance writer experience levels defined?
The survey consisted of men and woman who voluntarily divulged their pay as a freelance writer. Beginners were identified as someone with 0-3 years of freelance experience.
Intermediate writers had 3-7 years experience, professionals had 7-15 years, and experts were defined as having more than 15 years experience.
Keep in mind that these definitions for experience levels are only a guideline. Someone who's an excellent writer and just starting out could qualify as an intermediate or professional freelance writer.
This article is all about helping beginners find freelance work and starting their freelance career. Most of the information will be targeted for beginners, but I'll include relevant information for intermediate, professional, and expert levels as needed.
How much do beginner freelance writers charge per word?
Nearly all beginner freelance writers charge anywhere from $0.01 to $0.50 per word! That's not a bad rate to charge if you're just starting out!
A typical online article ranges from 1,000 to 2,000 words. As a beginner, you could make $10 or $20 to $500 or $1000 per project!
From the survey participants, nearly of beginners 33% said they charged $0.01-$0.10 per word. About 27% of freelance beginners said they charged from $0.11-$0.25. Nearly 23% of freelancers with 0-3 years experience charge $0.26-$0.50 per word!
How much do beginner freelance writers charge as an hourly rate?
Nearly 26% of freelance beginners charged an hourly rate of $1-20 per hour. 32% of new freelancers charged $21-40 per hour, 20% charged $41-60 per hour, about 11% charged  $61-80, about 7% charged $81-100, and a small 4% of freelancers charged over $100.
From these statistics, the average beginner freelance writer charges $31.56 to $49.80 per hour.
See how lucrative becoming a freelance writer can be? It's best to honestly asses your writing skills and determine where you fall compared to others.
You will also want to have an idea of how long a typical article takes you to write. The last thing you would want to do is blind side your client, saying you charge $70 an hour and then charge 20 hours to that one article!
How does gender effect beginner freelance writers and how much they charge?
An interesting statistic shows that men typically charge more for freelance work than woman, until you get to hire paid work. What does this look like?
When freelancers charge per word, men typically charged more than women when the job was $1 or less per word. Above $1 per word, women typically charged more.
When freelancers charged per hour, men typically charged more from $1-60 per hour, but woman charged more in the $60-$100+ range.
Where do you find freelance writing jobs?
Marketing yourself as a freelance writer
There are typically two ways to earn work as a freelance writer, such as, bringing in your own clients or joining a freelance network.
If you want to bring in your own clients then you are essentially starting a freelance business from the ground up. It's going to take a lot more work to gain clients, but you have the potential to earn more money than in a freelance network.
A freelance network, such as Writers Work, provides you with everything you need to get started. You create an account, log in, and apply for available jobs. You don't have to seek out any clients to start making money!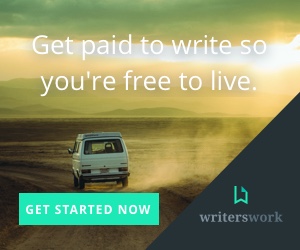 More advanced freelance writers may want to bring your own clients because of the potential to earn more. So let's dig into how to start your own freelance business for free and without investing or bidding for work.
Create a pricing package
Freelance writing fees and services
The first thing any freelance writer is going to need is a pricing package. How much will you charge your clients for your writing services?
Will you charge your services per word, hourly, or per job? Determining your pay structure is the one of the most important parts of starting your business, so don't take this step lightly!
I highly recommend creating your pricing package on a Google Document as it's easy to share and it's linked to your Google account. With Google Docs, you can access, update, and share your pricing sheet from any computer.
You should also include the freelance writing services you plan to provide. You aren't limited to solely blog articles, although they are the most popular service offered by 90% of freelancers.
Other services you can offer as a freelance writer include email newsletters, social media content, research papers, Ebooks, Print Collateral, books or novels, website copy, and other various services as needed by your client.
Freelance Payment Terms and Billing
Your pricing sheet should also include how someone can pay you and how frequent they are expected to pay! Don't miss this step or you'll find yourself working for clients who haven't paid you and are still asking for you to produce work.
Examples of payment terms might include the following:
Payment due on the first of every month with a 5 day grace period.
Outstanding charges shall not exceed $1,000.  Future work will not be completed until the outstanding balance is paid.
Payment for services can be paid via PayPal to (Your PayPal account)
Be firm on your payment terms or you may find people starting to take advantage of your services. If you claim outstanding balances should not exceed $1,000 and you haven't been paid yet, don't take extra work! Otherwise, you'll end up being owed $2,000 and your client may never pay!
You'll need to have a method of billing your clients. One of the easiest and free ways is to set up a Google Sheets for each client. You can log the article title or service, hours worked, amount owed and any other relevant information.
Billing software is available for purchase, but it isn't necessary. Just make sure you have a method in place for billing that you can understand and easily maintain.
Click to Tweet! Please share!
Click To Tweet
Find freelance writing clients through social media
Social media is one of the best ways to identify potential clients for your freelance writing business. In particular, Twitter is my favorite for identifying potential clients.
Bloggers will be one of your biggest customers when you're looking for freelance writing gigs. Twitter is the social media platform where bloggers talk freely and aim to network with other bloggers. We need to identify a strategy to network your services to paying bloggers.
Step 1: Setup a freelance twitter account
Opening up a Twitter account is easy and only takes a few minutes. Once you're account is open, you'll want to fill out your bio, identifying yourself as a freelance writer. If you write for a specific niche, such as finances, identify your niche in your bio.
Here's an example of freelance writer, Allie Freeland. See how she does a great job identifying herself as a freelance writer and identifies the topics she writes about. She also uses hashtags strategically!
A tweet is your message that you post to your twitter account. You know? Like when you share what you ate for lunch or whatever it is you post about on social media. Did you know that you can create a pinned tweet that stays at the top of your Twitter profile?
Take advantage of pinned tweets by creating a tweet that states how to hire you as a freelance writer. You can include a link to your price sheet which you wrote in Google Docs.
Step 2: Network with other bloggers
Once your Twitter account is set up, it's time to start hunting clients. However, approaching people instantly with your services will produce little results. You need to start forming relationships with potential clients.
Start by following bloggers in your Niche. Your ideal potential client is moderately successful in the blogging community and is looking to grow their blog.
Interact with these bloggers and remember to be social, friendly, kind, funny, and build a lasting friendship. You should interact with your new blogger friends a minimum of seven times over seven days before contacting them about your services.
The longer you take to know someone the easier it will be to pitch your freelance skills. It's also worth mentioning that the longer you are generally social the more people will visit your Twitter page and see your pinned Tweet.
Step 3: Contact your potential clients about your freelance services
Once you've cultivated a relationship with your new Twitter friends, you might want to ask if they are interested in your freelance services.
You can promote your freelance writing in a few different ways. The first step is to Retweet your pinned tweet about how someone can hire you for freelance writing work. This will show up in your Twitter followers news feed, Twitters search results, or your follower's followers when your followers interact with your tweet.
Next, share freelance work you've done in the past on twitter. Say you did a freelance article on "The 10 best ways to lose weight." Create a tweet saying how much you enjoyed writing this article for (insert client) and link to the article.
The last step is a bit more aggressive. Visit your Twitter friends website and find their name and email address. Send them an email and ask if they would be interested in hiring you for freelance work.
Click to Tweet! Please Share!
Click To Tweet
Join Writers Work – A Beginner Freelance Writers Dream
One of the easiest ways for you to start earning money is to join Writers Work, a network for freelance writers. Writers work is the complete, one-stop-shop, for anyone starting freelance writing.
Once you sign up, you have access to job opportunities and can start work right away. The sooner you start, the sooner you can start earning money through freelance writing.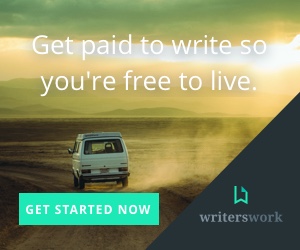 So why join Writers Work?
Built for beginners – Writers Work is built with beginners in mind. It's an online program with an easy to use interface.
Article and Video tutorial library – Anything and everything you want to know about freelancing is all located in one place. Don't know how to do something? Just search for your question and you'll find your answer.
Work comes to you  – With Writers Work, you don't need to find clients because Writers Work finds them for you! Your job opportunities are listed on one screen and you can choose what jobs you want to take. You can even set alerts for when new opportunities are listed.
Advanced Writing and Editing software – Writers Work comes complete with software that helps you write better articles.
The best part about Writers Work is that it let's you focus on earning money. If you were to try and attract your own clients, you have to spend hours finding them, gaining work, sending billing statements, etc. Writers Work eliminates the hassle and lets you focus on one thing, writing freelance articles.
So that's it for this article. Make sure you check out Writers Work and post your questions about freelance writing in the comments below! If you enjoyed this article, please share!