How would you like to find the best work from home jobs so that you can work in your pajamas?
What if you could be a part-time employee without a commute in the comfort of your own home. Wouldn't it be worth it to leave your home office and see your kids playing in the next room over?
No one wants to work a soul-sucking 9-5 job that barely pays the bills.
Sadly, most of us drive to a job we hate, every single day.
So how do you find a legit work from home job that is not a scam? Luckily for you, I'm going to share with you the best at home jobs that you can work without a degree and pay well.
This article may contain affiliate links which pays a commission and supports this blog. Thank you for your support!
Freelance writing
Freelance writing jobs are perfect for anyone looking for remote work. You can get paid to write as long as you have an internet connection or can get online often.
Freelance writing can start as a side hustle with the potential to grow into a full-time career.
Jorden talks about how she and her husband lost their jobs to building a $5,000 per month freelance business in only four months!
Make no assumptions, starting your own business is hard work! Effort is the number one factor that will determine if you sink or swim!
Click to Tweet. Please Share!
Click To Tweet
Freelance writing salary rates
So how much money do freelance writers actually make?
I've covered this topic in-depth in my article, how to find freelance writing jobs. The exact freelance salary is a little complicated because it depends on your skill and experience as a writer.
A beginning freelance writer has 0-3 years experience. Intermediate freelancers have 3-7 years,  professionals have 7-15 years, and experts are 15+ years experience.
The above years of experience are only a guideline. You may be able to charge more if you feel that you are an exceptional writer.
In general, the average beginner freelance writer charges $31.56 to $49.80 per hour.
You can see from the chart above, about 4% freelancers charged over $100! Freelance writing is completely dependent on your skill, experience, and ability to sell your services.
But what about charging per word?
As you can see from the chart below, half of beginning freelance writers charge from $0.11 to $0.50 per word.
So if you charged $0.25 per word and wrote a 2,000 word article, you would make $500! I know most of you can write a 2,000 word article in under a day.
But, did you know that you could charge per job?
Charging per job is great if you can write quickly and efficiently. Let's say you charge $700 per job, but the job only takes you 4 hours to complete. Your hourly rate would be $175 per hour!
As you can see, freelance writing can be a lucrative work from home job.
Freelance writing sites
So you want a job doing freelance writing, but you don't want to find your own clients. Are their websites that will bring clients to you?
Yes!
The only downside is that you are introducing a middle man into your work from home freelance job. Typically, with a middle man, you might not make as much money because the middle man gets a cut of your profits.
However, numerous benefits exist when going through a freelance website. With a freelance website, you don't have to worry about billing clients or tracking down new work opportunities.
Freelance website companies take care of the business aspect, so you can focus on writing.
So what are some good websites to start freelance writing, today?
Writers Work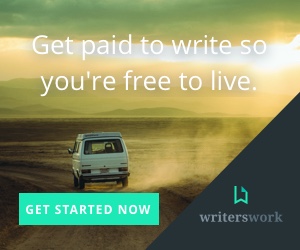 Writers Work is a one stop shop for beginners looking to start freelance writing.  Complete with an advanced writing software, online tutorials, and plenty of work available.
Once you sign up, you'll have access to everything you need to get started making money from home.
If you are just getting started and want an introduction to freelance writing, writers work is a great place to start.
Upwork
Upwork is a well known freelancer website which specializes in more than just writing. You can advertise your skills as a developer, designer, writer, accountant, engineer, and more!
The first step when signing up for an Upwork account is to populate your account profile. You'll need to select your area of work, such as copyediting, writing, video production, etc.
You'll also need to fill out a small bio section which helps potential clients understand who you are and what your services include. Here's an example profile from a top rated freelancer.
As you can see, this particular freelancer has done 64 jobs and earned over $40,000! Some of those jobs have been fixed price jobs, but her hourly rate is at least $97 per hour.
Related:
Work from home as a proofreader
A lesser known method of making money from home is proofreading.
Do you constantly correct your friends grammar? If so, proofreading might be your ideal side hustle.
Proofreaders read written works and ensure the sentences flow, can be easily read, and the piece is ready for publication.
But you might be wondering, is there a demand for proofreading?
Yes! The internet is continually cranking out written content. While not all of the content is proofread before publishing, a good majority of companies are looking for great proofreaders.
Click to Tweet. Please Share!
Click To Tweet
Proofreader vs. editor. What's the difference?
A proofreader corrects minor grammar, spelling, and punctuation mistakes. Typically, proofreading is less involved than editing a document. As a proofreader, you aren't correcting major sentence structure issues. Proofreaders tend to make less money than editors due to significantly less effort being required to perform the job.
How much do proofreaders make per hour?
According to Salary.com, a full-time proofreader makes between $44,954 to $58,495 per year. As for an hourly rate, proofreaders earn roughly $21.61 to $28.12 per hour.
That's not a bad salary for remote-work in the comfort of your own home!
Where can you find work from home proofreading jobs?
So you want to work from home as a proofreader? Where do you get started? Here is a list of the best websites for you to start freelance proofreading:
Proofreadingservices.com
Upwork
Flexjobs
Editfast
Gramlee
With this list of proofreading websites, you should be gaining work and earning money in no time! Should you still need further guidance, taking a proofreading course can be beneficial.
A course can significantly reduce your learning curve, making it so you can earn money faster.
Virtual Assistant Jobs
Becoming a virtual assistant (VA) is the perfect job for your average stay at home mom.
Why?
Virtual assistant jobs range in skill level, from none to social media expert, and can often be done after the kids are in bed! Typically, the only thing you need to get started is a computer.
What is a virtual assistant?
A virtual assistant is almost no different than any other assistant at any company. Companies hire assistants in the work place for all sorts of tasks including emailing, scheduling meetings, taking phone calls, filing papers, etc.
Virtual assistants take care of companies or bloggers needs for which the major players are too busy to perform.
Let's look at it this way. As a blogger, I need to produce content (like this article), be on Social Media, send emails, collaborate with other bloggers, and so much more!
I may be a super blogger, but I can't handle all those tasks efficiently on my own. I need to focus on my main task of producing great content. A virtual assistant can help schedule social media posts, filter my email, clean up my website, or any other task with a little training.
Click to Tweet. Please Share!
Click To Tweet
How much do virtual assistants make?
According to Don't Panic Management, virtual assistants can charge up to $100 per hour. Generally, $15-30 per hour is the going rate for typical assistant work like scheduling, emailing, etc. However, specialized virtual assistants, like good Pinterest VA's, can charge between $40-75 per hour.
The key is to ask yourself, What makes you a good virtual assistant?
What sets you apart from the thousands of other available virtual assistants?
Do you have more experience as an assistant than most? Maybe you offer more services such as copywriting or email marketing.
If you're serious about becoming a virtual assistant to supplement income, check out the linked article by Don't Panic Management. The article is full of great tips that first time VA's should know.
How to become a virtual assistant
There isn't a big secret when it comes to becoming a virtual assistant. You'll want to follow a general approach from idea to creation of your virtual assistant business. Here are a few steps you should consider:
Decide on your business structure – How will you bill for your services and gain clients? There are many different ways to become a VA, what does your path look like?
What services will you offer as a VA? Many virtual assistants have made great money by assisting in a specific task. Pinterest VA's can help you grow your Pinterest traffic.
Set your rates – How much will you charge for your services? Be firm and confident. When you provide value you can charge accordingly.
Create an online presence – Will you have a website or a Twitter account? You need some form of online presence to network with clients who can be found, online!
Network and sell yourself – Find your ideal clients, build a relationship, and promote yourself and services. Cold emailing leads through a service such as limeleads can be beneficial.
Remember, you can always promote your services on freelance websites like Upwork.
Transcriptionist Jobs from home
By definition, a transcriptionist is a person who types letters or other documents from a recorded dictation.
Yes, people talk into a voice recorder and need someone to turn that audio file into text. If you are great at typing whatever you're listening to, then transcription services might be for you!
Is becoming a transcriptionist for everyone? No, but it can be a great way to earn extra cash through freelance work.
Click to Tweet. Please Share!
Click To Tweet
How much do transcriptionists make?
Let's be clear, transcriptionists are paid by the audio hour.
What does an audio hour mean? An audio hour is the length of the audio file you are transcribing. So if you transcribe a 45 minute audio file in 2 hours, you're only paid for 45 minutes.
Speed and efficiency are crucial if you want to make a decent wage through transcription. Voice software can be beneficial in increasing your productivity.
So, what is the typical hourly pay for a transcriptionist? According to Payscale.com, transcriptionists earn an average hourly rate of $15.21.
You should note that medical and legal transcriptionists are a highly specialized field which may require additional training. However, medical and legal transcriptionists make more per hour than general transcriptionists.
Transcription companies and websites
So where can you find transcription work from home jobs? Popular transcription websites include the following:
Rev.com
Tigerfish.com
Upwork.com
Athreon.com
Scribie.com
Explore each and every transcription website to find one that you feel would suit you best. Working through transcription websites won't make you rich, but it's a good start.
You could consider reaching out to doctors offices, lawyers, and other businesses in your home town for freelance opportunities. Finding your own work will allow you to set your own rates.
Click to Tweet. Please Share!
Click To Tweet
Blogging to make money from home
Do you know what a blog is?
A blog is a website that anyone with a computer, credit card, and internet access can create, write articles, and make money from home!
Not every blogger wants to earn money from their website, but a lot do earn money. Some bloggers just want to write about their interests.
Other bloggers write about their interests and then get paid for it!
How much do bloggers make?
So how much do bloggers make?
Blogging income varies from blogger to blogger, but most bloggers earn nothing from their blog. Some bloggers earn a full time income within the first 9 months and others don't make money for years.
Having a plan and putting in the work will ultimately lead to blogging success.
So what are examples of some successful bloggers and how much do they make?
Michelle Schroeder-Gardner from makingsenseofcents.com earned over $1,500,000 in 2018!
Silas and Grace from chasingfoxes.com made $15,000 in their 9th month of blogging.
Alex and Lauren from Avocadu.com and Createandgo.co earned almost $118,000 in June 2019.
Now before you get overly excited, blogging takes an immense amount of work! You won't be making thousands of dollars instantly.
Here's a video from Alex Nerney from Createandgo.co discussing how he and his girlfriend, Lauren, built a $100,000 per month blogging business.
How do bloggers make money?
Bloggers make money in a variety of ways. As a matter of fact, most successful bloggers make money using multiple methods, rather than one income source.
So once your website has launched and has a steady flow of traffic, you can earn money blogging with the following
Ad networks
Display advertisements shown on your website can generate money whenever someone clicks on an ad or depending on ad views. Ad networks are easy to set up and can make you a small chunk of change.
Generally, you can earn anywhere from $6-$25 per 1,000 pageviews. Advertisements are a great way to start your blogging business, but you'll want to include other monitization methods.
Google Adsense is the most common ad network for new bloggers because there is no requirements to join. You can join premium Ad network Mediavine at 25,000 visitors per month and Adthrive at 100,000 visitors per month.
As you can imagine, the more stringent the entry requirements the better the pay.
Affiliate Products
Affiliate products have the potential to earn you life changing money. An affiliate product is a product created by someone else and they give you a commission for selling that product.
Let's say a vitamin company makes a protein powder that would fit your health blog. The company offers an Affiliate Program that offers 30% per sale.
Sign up for their affiliate program and you'll get your own unique hyperlink, which you can add to your website. Should someone click on your link and purchase the protein powder, you'll earn a 30% commission.
Affiliate products are an amazing source of passive income. Once the article is written with your affiliate link, it can continue to generate sale after sale so you can focus on your next article.
Create your own products
Successful bloggers, like createandgo.co, have made a significant income selling their own informational products. Like affiliate products, your products are a great source of passive income that can continually generate sales.
For example, on their health and fitness blog, Avocadu, they are selling a Yoga Fat Loss program for $47. Should someone buy that program, they earn a whopping $47!
Here's an example from their sales page. You can see how they use images and convenience to help sell their program.
Sponsored Posts
Sponsored posts are less passive because you will need to continue to write articles to generate new income. You'll work with a company to write an article or review on their product in exchange for money.
Let's say you own a blog about dogs. Kong dog toys is releasing a new product that they need to get in front of dog lovers. Kong will offer you money to write an article or video about the new product and share it with your audience.
Vlogging
Vlogging is very similar to blogging, but rather than writing an article you create video. Again, vlogging can be a difficult work from home job, but well worth the reward if you stick with it.
YouTube is the most common video platform for vloggers, but you can use other websites like vimeo or flickr.
To start vlogging, you'll need to chose your niche or the subject of your vlog. Do you want to make videos about the stock market, sewing, exercising, or any other interest?
Click to Tweet. Please Share!
Click To Tweet
Can vloggers really make money from home?
You might be wondering, can making videos about my passion really become a work from home job?
Absolutely! Let's look at a few successful bloggers and how they make money.
Ricky Guitierrez is famous on YouTube for his videos on trading stocks and his love of fast cars. He has built a loyal audience on YouTube of people interested in trading stocks.
Ricky uses his YouTube channel to promote his course, Learn Plan Profit, which is an in-depth stock trading training course. Learn Plan Profit retails for $300 and people pay for the course because it actually produces results.
Philip DeFranco is a popular YouTuber who discusses current events with a unique perspective. As of writing this article, Phil has nearly 6.5 million YouTube subscribers!
Check out this video Phil posted 1 day ago. It has nearly 1 million views! Remember, ad networks can pay between $6-$25 per 1,000 views.
That means this video could have made Phil between $5,500 and $22,000 in only Ad Revenue!
Ads aren't the only way Phil has made money in the past through his YouTube channel. Phil has included sponsorships, affiliate products, and even created clothing to sell through YouTube.
Customer Service Representative Jobs
One of the top growing work from home jobs is in customer service.
Large companies are realizing they can save a ton of money by turning their customer service jobs into remote work positions.
Your typical duties as a customer service representative would be to answer phone calls, handle customer complaints, resolve issues, and maintain customer information. You won't need many skills to become a customer service rep, but you should be able to handle difficult or angry people over the phone.
What is the typical customer service representative salary?
You won't become rich with a customer service representative job, but they are easier positions to find and get hired quickly.
According to Careerbuilder, the national average salary is $33,000 for a customer service representative.
An annual salary of $33,000 works out to roughly $16 per hour.
Online Tutor Jobs
Do you have a skill in teaching english, spanish, math, or are knowledgeable in another topic?
Online tutoring jobs can be a good way to supplement your income and can often be done after work. If you're a busy individual, tutoring a couple hours a week could be a good side hustle for you.
Some online tutoring jobs you can do without a college degree. Other positions might require a teaching certificate or a certain level of experience.
Where can you find online tutoring jobs?
There are numerous websites that you can find online tutoring jobs. Some of the best websites for tutoring include:
While tutoring is one of many work from home jobs, you can also find tutoring opportunities throughout your community.
Click to Tweet. Please Share!
Click To Tweet
Life Coach and Consulting work from home jobs
Are you good at giving life advice? If you said yes, becoming a life coach or doing consulting work can produce a well paying side income.
A life coach or consultant helps people move forward with their goals.
A finance advisor knows the ins and outs of the finance industry. They can help families get out of debt, build wealth, and plan for retirement. Less known, some financial advisors can help assist with finding someone to write a will or control your finances to help you save money.
Do you have to become a financial advisor to become a successful consultant? Absolutely not!
What do you have an extensive knowledge in that you're passionate about? Maybe you could help people lose weight, study for an exam, or build a business.
Life coach and consulting salary
So how much do life coaches and consultants get paid?
It depends on how much you are willing to charge for your time and how much people are willing to pay.
The beauty about coaching is that you are often able to set your own rates and own payment methods. You should be able to provide enormousness value no matter what you're charging.
The three most common methods for a consultant to get paid are as follows:
Charging by hourly rate
Charge by project
Charge an initial fee plus monthly retainer fee
The key is to find out what works for your life coaching or consulting business.
So how much money can you make with each method? Let's find out!
Click to Tweet. Please Share!
Click To Tweet
Charging by hourly rate
Let's say that I wanted to open up my own finance consulting business. I would try and aim for an annual salary of $300,000.
However, I only want to work 20 hours per week, offering clients the ability to schedule half hour or hour consulting sessions. In order to meet my salary, I would charge $288 per hour ($300,000 / (52 weeks per year* 20 hrs per week)
You might be wondering, who pays $288 for a one hour meeting? The answer might surprise you, but thousands of people pay MORE than that every month for services.
Charge by project
Charging by project is exactly what most contractors do with their business. People like knowing exactly what they are getting and for what price.
Maybe you want to be a weight loss consultant that specializes with the Keto diet. Your clients needs will vary, such as, needing motivation to workout, unable to create a simple meal plan, or completely lost on where to start.
You can offer your clients specific solutions for their needs. Examples might include, building a custom exercise and diet program that fits their lifestyle for $500.
Your client sends you $500 and you send them their program. Of course you mention that you are available for further consultation (for a price) throughout their journey.
Charging an initial fee plus monthly retainer
One of the best methods for making money as a consultant is to charge an initial fee with a reoccurring monthly "retainer" fee. This method allows you to do less work, but maintain a high income.
Let's look at your weight loss business. You could charge an initial $300 for a one hour skype call to better understand your clients needs, goals, what they've tried, home situation, support levels, etc.
After the initial call, you create their customized weight loss plan where your client is required to send monthly weight loss progress reports. You also will provide unlimited email support for questions to which you will respond to ideally within 48 hours.
Because you continually provide support for the person, whether they use it or not, you can charge a reoccurring fee. Assuming you set your monthly fee at $80 and have 100 clients, you're now generating $8,000 per month.
Life coach and consulting certification
While not required, certification is available for life coaches and consultants. Having a specific certification can make your business look more promising to potential clients.
Click to Tweet. Please Share!
Click To Tweet
Virtual bookkeeper services
A bookkeeper is like a certified public accountant except you can manage finances without a degree. All you need is the ability to manage finances in an organized manner.
So what services do virtual assistant bookkeepers perform for clients on a daily basis?
Maintain an accurate budget
Input receipts
Send invoices or bill clients
Process payroll
Becoming a virtual bookkeeper isn't an easy choice as it requires excellent money skills. However, bookkeeper positions are in demand as most businesses revolve around one thing, money!
What is the typical bookkeeper salary?
Entry level bookkeepers earn around $18 per hour, while experienced bookkeepers can charge as much as $50. If you want to become a virtual bookkeeper, you can either work for an online bookkeeper firm or work freelance.
Freelance bookkeeping is often more rewarding, allowing you to set your own rates. It is not uncommon for a freelancer to charge $50 per hour.
Working for an online bookkeeping firm is less risky, but you'll expect to earn anywhere between $35,000 to $55,000.
Where can you find virtual bookkeeper jobs?
The following websites are good starting points if you want to find online bookkeeper positions.
While these websites are good starting points, they aren't your only option. Remember, all companies need some form of bookkeeping service. There are literally thousands of companies available for you to pitch your services.
Click to Tweet. Please Share!
Click To Tweet
Search Engine Evaluator
Search engine evaluators monitor search engine results pages, otherwise known as SERP. Evaluators monitor search results to ensure the search results are accurate and meet users search intent.
In other words, you're making sure Google's algorithm and bots are doing their job correctly.
Search engine evaluators can expect to make a salary around $15 per hour. Keep in mind that most search engine evaluators are considered contractors and may not have steady work.
What companies hire remote search engine evaluators?
There are many companies that hire search engine evaluators, but they all have their own set of rules. Be careful, because if you sign a non compete with one company then you can't work for another.
Appen
Appen is a good choice to find search engine evaluator jobs, but they also offer Transcription, translation, linguistics, and micro tasks as work from home jobs. You can find tasks that take under an hour to projects that last for several months.
Lionbridge
Lionbridge is an online crowdsourcing platform for which you can find plenty of work from home jobs. One of their biggest clients is Google, so you can might even get a chance to work on a Google project. You can see all of there open positions here.
Graphic Design Freelance Jobs
Do you have a passion for graphic design? If so, becoming a freelance graphic designer might be your ideal work from home job.
Who's hiring graphic designers?
Companies big and small need the artistic talent of a graphic designer. Let's face it, your average business owner doesn't have the skill set or know-how to create custom graphics.
Art is a skill that is developed over years of practice. Businesses don't have years to wait which is why they need someone who already has artistic talent.
Graphic design salary
According to Glassdoor,  the average salary for a graphic designer is $48,561 with an average of $1,755 in additional cash compensation.
Freelance graphic designers reported a slightly higher salary at roughly $50,000 per year.
If you want to know more about graphic design salaries, check out 99designs.com article on graphic designer salaries. The article breaks down what a typical graphic designer can expect to earn based on years of experience.
A graphic designer with 0-2 years experience might make anywhere from $40,000- 49,000 per year. With 2-5 years of graphic design experience, you can expect to make between $45,000-57,000 per year. Professional graphic designers with 5-10 years experience make between $51,000-71,000 per year.
The article by 99designs.com also covers a large variety of design job salaries, such as graphic design intern, graphic designer, senior graphic designer, web designer, art director, etc.
Most notable is the amount of money that can be earned through freelance crowd sourcing contests. From the article, "it's not impossible for a highly skilled designer to make upwards of $10,000 a month  through crowdsourcing contests and referrals."
Graphic design freelance websites
So where can you start finding work as a freelance graphic designer? The best websites for new graphic designers are as follows:
Toptal
Toptal is one of the best freelance networks available, but it's not the easiest to join. You need to be within the top 3% of all freelancers to join.
Exclusivity gives Toptal an edge because they attract clients who are willing to pay more for the best work. If you manage to make it within the top 3%, you'll be earning more and have less competition.
People per hour
People per hour is a great website for starting graphic designers working to build their portfolio. Jobs are typically paid by the hour. People per hour is a competitive website, so bidding low and quick turnaround is key.
Freelancer
Freelancer is an amazing website for graphic designers and is most popular for their competitions. Signing up is free, but additional fees can apply.
Direct Sales
Are you an extrovert with numerous friends? Can you strike up a conversation with some random person and become instant best friends?
If so, joining a direct sale company could be your ideal work from home job.
Direct sales are often known as multi-level marketing companies, often confused with pyramid schemes. While direct sales often looks like a pyramid scheme, the big difference is that direct sales can actually make people money.
A few examples of direct sale companies include Advocare, H2O at home, Doterra, and Amway. You sell there product such as makeup, jewelry, clothing, etc. in exchange for a commission.
How you get paid varies from company to company, so you'll want to research and find your best fit.
Click to Tweet. Please Share!
Click To Tweet
Are direct sales right for me?
Let me start off by saying direct sales companies are risky.
The marketing strategy for direct sales is simple. Companies offer you a commission to sell a product to your network of friends and family.
Some family and friends will purchase your products to support you even if they don't need them. Direct sales companies can often create more financial strain simply because family wants to support family. Others will be naturally interested and buy your products if they truly enjoy and can benefit.
The major downside to joining a direct sale company is that you don't own the business. Yes, that means you could build a $100,000 per month business and then have the direct sale company stop doing business with you.
Would a company really take away your side hustle that's generating $100,000 per month?
Yes! As a matter of fact, that's exactly what Advocare just did when they changed their payment structure with only one months notice.
I personally know a couple doing $40,000 per month with Advocare and then lose the business over night. You can see from the image above that they weren't the only distributors affected by the change.
So what's the key takeaway? You can do direct sales, but keep in mind that you are not in control. Do not quit your job based on your success in direct sales, but rather, invest the money into another income producing asset.
Test Apps, Websites, and Survey Work
Did you know companies need your input to better sell their products?
Companies spend a lot of time and money split testing their products. They want to know if yellow packaging sells better than black or if the words "fast weight loss" will sell more supplements than "easy weight loss."
Believe it or not, a slight tweak in wording on a package can increase a companies revenue by millions of dollars. As a company, you can only guess what consumers want.
Therefor, you can make money testing user experience for Apps, websites, or stating your opinion through an online survey.
Keep in mind, finding a survey site that is not a scam can be difficult! Always check the websites credibility and be cautious about what information you provide.
Most survey websites pay cash through PayPal, but every program is different. If you're looking for online survey jobs, check out Survey Junkie or Swagbucks.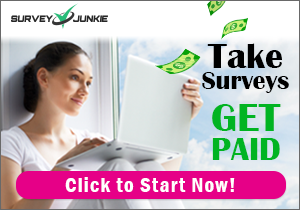 Typical pay is under $500 per month depending on survey work availability and how much each is worth. Surveys and user testing is great to do while watching TV.
Air BnB host – Work from home jobs
Do you have a spare room or a place for someone to sleep?
Hosting your spare room on Air BnB can make you some serious cash. You will still need to perform basic hotel services, such as changing sheets and laundry, cleaning, and keeping guests happy.
If hosting an Air BnB sounds appealing then you should check out Paula Pant's Air BnB experiment.
Paula is one of my favorite bloggers who retired young through real estate. In this article, she talks about turning one of her rental properties into an Air BnB and seeing how Air BnB compares to rental properties.
Do you want to know how much you could earn with Air BnB? You can use their calculator to estimate your earnings!
Pet Sitting and Dog Training
If you're an animal lover, pet sitting or dog training from home can be a good work from home job.
People go on vacation and need someone to watch their pets. They have a need for pet sitting and you have a pet sitting service, therefore, you can earn money!
You can also earn a good amount of money from home if you have experience dog training. Most dog owners have no clue how to properly train a well behaved dog.
Pet sitting rates
So how much can you earn with pet sitting?
According to thumbtack, the average pet sitter earns $20-40 per pet or $75-85 for an overnight stay.
Of course, you can charge more for additional services! Pawsitive Pet Sit has a complete list of additional services that you can offer. However, note that some services might require you to go to your clients house.
Additional services might include:
Dog Walking
Overnight Pet Sitting
House Sitting
Hotel Sitting (meeting clients at their hotel)
Pet Taxi (Taking a pet somewhere such as the groomers)
Pet Food shopping and delivery
Dog trainer salaries
So how much can you make as a dog trainer?
In short, it depends on your skill level and if you work for yourself or a company like Petsmart. Working for a company, you can expect to earn anywhere from minimum wage to roughly $30 an hour. If you work for yourself, an expert dog trainer could charge as much as $150 per hour.
Click to Tweet. Please Share!
Click To Tweet
Companies hiring remote workers
The work from home jobs listed above are great money making opportunities. Some jobs require more entrepreneurship than others.
However, what if you are simply looking for employment at a remote worker company?
Forbes released the top 100 companies for finding remote work. These companies hire for a wide variety of tasks, such as customer service representatives to data entry, etc.
So what are the top 10 companies offering home work?
Appen
Lionbridge
VIPKID
Liveops
Working Solutions
Amazon
TTEC
Kelly Services
Concentrix
UnitedHealth Group
Another great resource for finding companies that hire remote workers is a compiled list from the work at home woman. The work at home woman links you to multiple companies which hire remote workers depending on the type of work.
Click to Tweet. Please Share!
Click To Tweet
Summary: Work from home jobs
There are many opportunities for finding employment from home. You need to ask yourself, do you want to be an entrepreneur or find a company to hire you remotely.
As an entrepreneur, you can offer a service or sell a product. Selling a service often turns profit faster but is less passive of an income source. Selling a product can be more difficult, but lead to a passive income stream which requires little work to maintain.
Other companies will hire you to work from home for a variety of tasks. Decide on what type of tasks you want to perform, (e.g. assistant, data entry) and find a company from the list above who's hiring. You can also check out these ways to make easy money from home.