How would you like to find quick cash only gigs near me for making $500, $1,000 or more?
Imagine making $1,000 from home or through a well paying side hustle. How would that much money every month change your life?
You could invest more money and retire early or take the family on a vacation. Why not pay off your remaining debt or get someone special a gift?
It all starts with earning more money.
Luckily for you, I'm going to show you some of the best cash only gigs and best side hustles. Even if you aren't working under the table, you can still earn a nice chunk of cash.
This article may contain affiliate links which pays a commission and supports this blog. Thank you for your support!
1. Deliver Pizza
Delivering pizzas was my side hustle of choice during my summer breaks in college. Pizza delivery is a legit side hustle where you can make a lot of money in tips.
During my days doing pizza delivery, tips ranged anywhere from $2-$5 per delivery. You'll start slow, but eventually work up to delivering to three different locations at once.
According to Indeed, the average tip for a Pizza delivery driver was $3 per delivery.
Therefore, if you're able to deliver 3-4 pizzas an hour then you're making an extra $9-$12 on top of your hourly rate. Someone working under the table wouldn't report their delivery tips on their taxes (not-legit).
Not bad for cruising around town listening to your favorite music!
Click to Tweet! Please Share!
Click To Tweet
2. Bartender
Bartenders have one of the most awesome cash only gigs around. Not only do bartenders make an hourly wage, but the tips earned can be huge!
If you live in a college town then learning to become a bartender is a must! College towns are the best location to bar tend and you'll make more in tips.
3. Freelance writer
Generally speaking, beginning freelance writers make $31.56 to $49.80 per hour or $0.01 to $0.50 per word. Therefore, starting your own freelance writing business can be a profitable cash only gig.
If you have decent grammar and English skills then you can make money consistently as a freelance writer. While freelance writing takes work, you can replace your 9-5 job income as a writer.
One of the best places to find work when you're new is through a freelance writing network. Freelance writing networks find work and handle the business side. All you have to do is show up and write great content.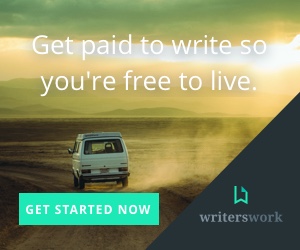 Writers Work is a freelance writing network which is open to beginners. Joining is easy and you get get started in no time.
4. Stock Trader
Making money with stocks takes time to learn, but it can be one of the best cash only gigs around. It goes without saying, trading stocks is risky but you can earn a lot of money.
From day, swing, and momentum trading and dividend investing, there are so many ways to make money with stocks.
Getting started is easier than you think. Open a brokerage account, like Robinhood, which is how you actually purchase stocks. Then, start watching YouTube videos on stock trading. You'll make numerous mistakes, but you'll slowly start to figure it out.
5. Rent your car
Your car is an incredible asset for earning extra cash with the right strategy. Companies will pay you to advertise, you just need to know how to find the right way monetize your car.
One of the most profitable ways to make money with your car is by renting, just like AirBnB. Companies like GetAround, Turo, and HyreCar are all apps dedicated to you renting your car for money.
Not comfortable with renting your car? You could always drive for Uber or Lyft or wrap your car for money instead.
6. Online Surveys
You won't get rich doing surveys, but what else are you doing with your time? Sometimes finding surveys everyday can be challenging, but surveys are a legitimate cash only gig.
One of the best and most trusted survey website is Survey Junkie. Signing up is easy and only takes a few minutes.

7. Donate Plasma
You can start donating plasma and receive a payment around $20 to $50 per donation. Donating twice weekly could earn you $160 to $400!
Most plasma centers pay you with a debit card. This debit card works just like your bank issued card. Contact your local plasma center for payment amounts and options.
Donating plasma is one of the easiest cash only gigs, requiring you to show up, get blood drawn, and watch Netflix. If you're looking to make quick cash on a consistent basis then you should consider donating plasma.
8. Babysitting
Babysitting may be the cash only gig you're looking for if you're great with other peoples children. According to Care.com, the national average hourly rate for a babysitter was around $15 per hour. There are several ways to find work as a babysitter, but check websites like Craigslist, Care.com, Monster, and Indeed.
Click to Tweet! Please Share!
Click To Tweet
9. Dog training, sitting, and walking
Dog training, sitting, and walking can be a full time income job if you have enough clients. The best part? Most of your clients will pay as cash only.
Rover and Wag are two different dog services which range from dog walking, boarding, drop in checks, boarding, dog sitting, and daycare. If you love dogs then you could be an on demand dog walker!
You'll have to go through a screening process to work with dogs through either service. They will test your knowledge of dogs and see how you would handle different scenarios.
10. People walk
Walking people around is an unusual way to make money by walking. People walker is an App that pays you to be an on demand "People Walker." The concept is simple, you are paid to walk other people who are looking for a walking partner.
If you want to be a People Walker then you'll need to pass a background check. As you can imagine, the folks at people walker want to make sure you only walk with non-sketchy people. Should be relatively painless!
11. Drive for Uber or Lyft
Uber and Lyft are the leading rideshare services. Someone needs a ride and you have a car. Why not give them a ride for a little extra cash?
According to Gridwise, rideshare drivers earn an average of $15-20 per hour.
Some drivers have even made $1,000 in one weekend! However, most high earning rideshare drivers have a system down that allows them to earn so much.
12. Wrap your car
You can expect to earn between $100 and $300 per month driving around with a car wrap. Pay varies depending on which car wrap company you partner with, where you drive, and how many miles you drive.
You have to drive anyways, why not earn an extra couple hundred bucks? As far as cash only gigs go, wrapping your car is another easy method that requires a minimal time commitment.
13. Advertise for companies
People are finding ways to make money from home. Advertising is one of the easiest ways to make your work from home dreams a reality.
You can advertise for Multi-Level Marketing companies, anyone willing to split a commission with you for selling product, and companies with money. Each have their own strength and weaknesses and payment structure.
Pay depends on the strategy you use and your efforts. Some strategies are more profitable.
If you get a car wrap then you'll have a guaranteed income that pays a couple hundred per month. Advertising with affiliate marketing or other commission based methods depend on how many sales you can generate and the size of the commission.
Click to Tweet! Please Share!
Click To Tweet
14. Teach English online
Online English teachers earn anywhere from $10 to $25 per hour. Teaching English is a common way to earn extra money while transitioning from a 9-5 to your own home based business.
Kelan Kline from The Savvy Couple quit his job to go full time into blogging. He still needed to bring in some income while building his blog and chose to teach English online.
English teaching has helped numerous people become digital nomads. A digital nomad is someone that is able to travel the world while earning a full-time income from their laptop.
15. Sell on Amazon
Amazon FBA stands for Fulfillment by Amazon. Basically, you list your products on Amazon and send them to Amazons warehouse. When the product sells, Amazon ships it out.
As someone who has sold on Amazon, find the right products to sell and you'll have a hard time keeping your business stocked. The only difficulty is finding someone to supply you those products.
What I like best about Amazon is that you can earn better than stock market returns on your money. Generally, the stock market has annual returns around 10% per year. However, Amazon sellers can see a much higher return on investment!
Therefore, I would say that selling on Amazon is one of the best cash only gigs, if you can find someone to supply you products.
16. Check Craigslist
Craigslist is a gold mine for finding cash only gigs near me. Did you know that Craigslist has a "gigs" section at the bottom left of the screen?
You can find hundreds of local gigs, most of which pay cash. The local gigs near me are mainly construction and contracting jobs, but there is plenty of work available.
17. Deliver Food
Food delivery is a growing part of the gig economy. Taco Bell might be 10 minutes away from my house, but why waste my time going to get fast food?
You can take advantage and profit from my laziness. There are several apps for making money by delivering food. Here are some of my favorites:
UberEATs – If you're looking to be a paid driver for food delivery, UberEATs comes to mind. Someone orders food through the App, you go order it, deliver, and get paid!
DoorDash – DoorDash is another legitimate food delivery service located in over 4,000 cities.
Postmates – Postmates is another food delivery service like UberEATS, but also with groceries. You'll get paid differently depending on your city.
Grubhub – Grubhub is another food delivery service.
Instacart – Instacart is a full service grocery shopping app. People select their groceries online, place an order, and then an Instacart shopper goes grocery shopping. Then, the Instacart shopper brings your groceries to your house.
Saucey – Saucey is a food delivery service that specializes in alcohol delivery. Customers love the idea of having alcohol show up at their doors, so it's an easy sell.
Shipt – Shipt is another personal shopper app. Shoppers pick items from their favorite stores and you shop, purchase, and deliver the items.
Most of these cash only gigs for delivery driving can earn you $10 per hour or more.
18. Flip items
Flipping items takes a certain skill with a keen eye for knowing how much items are worth. If done right, you can make a lot of money in your spare time flipping items.
Flipping items usually involves cash, which is perfect if you're looking for a cash only gig.
Know this, item prices are different depending on the marketplace location you're shopping at. For example, K-Mart might sell an item for $25, but Walmart sells the exact same item for $19.99. Your job is to buy something low and sell it for a higher price.
There are several ways you can flip an item. A common method is to buy something on Craigslist and then sell it for higher on Facebook marketplace.
You can do the exact same thing online. Maybe you purchase something at Target or Walgreens with reward points. Now you can sell that same product on Craigslist, Ebay, Amazon, Shopify, Mercari, Posh Mark, or any other online merchant that accepts third party sellers.
Click to Tweet! Please Share!
Click To Tweet
19. Catering
Catering is a very seasonal bases with a lot of up and downs for staff demands. If you're willing to be a caterer, networking with catering businesses can land you some cash jobs.
First, make a list of all the catering businesses in town. Then, contact the owners of each business and ask if they hire temporary help during events. Let them know you're interested in filling in when they need help.
20. Mover
People are moving in your home town every single day. You know what's horrible about moving? Everything.
You can profit on people wanting to move if you are willing to do heavy lifting. Starting can be as simple as posting an ad on Craigslist. Create an hourly rate and advertise any additional charges like using your truck, moving equipment, or boxes.
21. Deliver packages for Amazon
Amazon Flex allows you to be a delivery driver for Amazon on your own schedule. Once approved, select a block of time to deliver packages. Show up, grab packages and go deliver!
Amazon claims that most drivers earn $18-25 per hour while delivering through Amazon Flex. However, your actual earnings will depend on a variety of factors including your delivery time and tips received.
22. Lawn Care
Mowing lawns is another cash only gig that can pay well. A lot of people use this side hustle for under the table work because you're often paid in cash.
You can either start your own lawn car service or join an existing one. If you want quick cash, I recommend finding a lawn care service which will let you help them mow for cash.
23. Snow removal
Another side hustle for quick cash is snow removal. You would be surprised at the at how much cash you can rake in by moving a little snow.
As with lawn care, the amount of money you can make depends on how quickly and how many houses you serve. Therefore, consider renting or purchasing a basic snowblower to speed things up.
Advertising your services can be as simple as posting an ad on Facebook and Craigslist. One local individual took his snow removal equipment over to Seattle during a heavy snowstorm. He posted one ad on Craigslist which netted him over $20k in one weekend.
Click to Tweet! Please Share!
Click To Tweet
24. Rent on AirBnB
If you have a spare room or house, renting on AirBnB can be an incredibly profitable gig. Obviously, finding a property if you don't already own one can be difficult.
House hacking allows you to move into a duplex, fourplex, or greater and receive mortgage and tax benefits. While you live in one unit of your rental, the other units pays for your mortgage.
Is AirBnB worth the hassle of changing the sheets when you could just hire a property management company? Absolutely, because AirBnB can be more profitable than a traditional rental property.
I have a coworker that is renting his house out on AirBnB and it's going well. Some months bring him in more than twice what he could have rented his place for through a property management company.
25. Candy machines
Owning candy machines is one of the best side hustle ideas if you're looking for cash only gigs. Did you know that one candy machine can make you between $30 and $70?
That's a lot of money considering one machine only costs $150. Therefore, you would make your money back in around 2-5 months! That's not a bad way to make extra money each month.
26. Buy profitable websites
Did you know that you can buy already profitable websites? If you have a basic knowledge of websites, then you could invest in websites and earn better returns than the stock market.
Flippa is one website where you can purchase existing websites. For example, the website above is for sale at a purchase price of $20k, but earns nearly $1k per month. You would earn an annual return of 60% and have the website paid for in under 2 years.
For reference, the stock market has an annual return around 10%. As you can see, buying websites can be a huge investment!
Click to Tweet! Please Share!
Click To Tweet
Summary: The best cash only gigs near me
As you can see, there are a lot of cash only gigs available for you to make money in your spare time. Which one you choose is up to you. How much time and energy do you want to spend on each of these gigs and which one fits your strengths?
So the best cash only gigs include:
Pizza delivery
Bartending
Freelance writer
Stock Trader
Renting your car
Online surveys
Donating plasma
Babysitting
Dog training, sitting, and walking
People walking
Driving for Uber or Lyft
Delivering food
Flipping items
Moving people
Catering
Delivering packages for Amazon
Lawn Care
Snow Removal
AirBnB
Candy Machines
Owning websites
As you can see, some side gigs are great for cash because of tips, others require a cash investment, and others pay good cash for working hard. Which cash only gig is your favorite? Let me know in the comments below.