Did you know companies will pay you to advertise their products?
You could be making thousands of dollars each month advertising. Imagine, making money advertising for companies during your spare time.
A good marketer can make money on autopilot, which is basically making money doing nothing.
What would you do with that much extra money?
Would you invest your extra cash? Pay off your mortgage? Or would you travel and see the world?
Either way, advertising is one of many side hustles that can be very profitable. You just need to know which companies will pay you to advertise. Knowing the companies is half the battle, but the money comes depending on how much effort you spend performing work.
Luckily for you, I'm going to show you which companies pay the most for advertising.
This article may contain affiliate links which pays a commission and supports this blog. Thank you for your support!
Companies that will pay you a commission
Commission based advertising is an amazing way to earn money advertising online. You are paid for sending business to a company. Earn money by connecting companies with potential customers.
How can I earn money by promoting?
Often, promoting companies is called affiliate marketing. The two ways you can earn money with affiliate marketing is Pay Per Lead or Pay Per Sale.
Pay Per Lead rewards you for getting someone to sign up for a program. For example, if you clicked this link to Survey Junkie and signed up for an account, I would earn a slight commission.  I don't earn much money, but it's easier than getting someone to buy something.
Pay Per Sale rewards you for selling a product or course on behalf of a company. Maybe you're browsing the web for bath bombs. You come across an article I wrote for bath bombs, click the link to Amazon, and make a purchase. I would earn a small commission for sending Amazon a sale.
1. ShareASale
ShareASale is a huge network of companies looking for people to promote their products. You can browse a list of companies and apply to join each merchants affiliate program.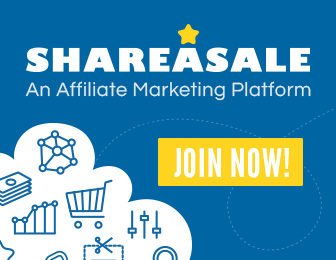 The company will review your application to join. Approval is up to each company, but there are thousands of companies to choose from. Most companies are looking to see if you have an established website that works with their brand.
Each company found on ShareASale has different rules. For example, a company may not want you to promote their brand with Pay Per Click ads using certain keywords.
ShareASale makes marketing easy, because I can apply to promote a company in seconds. Once approved, creating a product link is easy and sales are tracked for me. I also have access to different banner ads which I can place on my website for my approved companies.
2. Amazon
The Amazon Associates Program is one of the most popular companies to advertise with. Thousands of people visit and trust Amazon every day for making purchases.
What do I like about Amazon's Associate Program? Amazon has great conversion rates. In other words, people are more likely to buy from Amazon than any other company.
Unfortunately, Amazon isn't the highest-paying affiliate program. As Amazon grows, the amount earned per sale continues to get smaller and smaller. Amazon also requires you to have your own website and make three sales in a six month period.
3. ClickBank
ClickBank is popular market place for selling digital products. Anyone can create a product and sell through ClickBank.
The best part about making money with click bank is the high commissions. As a promoter, you can earn between 50-75% commission of each sale. Yep, sell a $100 product and earn anywhere from $50 to $75!
Advertising with ClickBank can make you a lot of money. However, ClickBank can also damage your reputation if you're not careful. Unfortunately, there are a lot of spam and low-quality products listed. Therefore, it is important to try a product first before trying to sell it.
4. CJ – Commission Junction
One of the best places to earn money through commissions is Commission Junction or CJ. CJ is considered one of the most elite affiliate marketplaces.
CJ is like ShareASale. Both are great places to find offers to promote to your audience. However, CJ is for more experienced advertisers.
You will be expected to make sales if you join CJ. Once you join, you have six months to make a sale. Otherwise, your account will be closed and you'll be charged $10.
CJ isn't playing around.
However, it can be rewarding to be apart of CJ's program. You might find the same companies affiliate program found on other websites, but for a larger commission. Your site will also be analyzed by CJ in order to help you make more sales and more money.
I recommend starting with a company like ShareASale. Learn to build a consistent stream of sales and then work towards becoming a CJ partner.
5. Doterra and Young Living Essential oils
Both Doterra and Young Living essential oils are considered multi-level marketing (MLM) companies. A MLM focuses selling product, as well as, building a team that also sells the same product.
People have done extremely well selling for MLM companies. However, joining a MLM has risks.
Advocare was a MLM which was fined by the Federal Trade Commission for being a pyramid scheme. Advocare's mistake was making their payment structure more profitable for recruiting team members than selling products.
As a result, many of Advocare's distributors had their income wiped away over night. Imagine, spending your time and energy to build a passive income stream and then losing it.
With an MLM, you don't own the business. Therefore, you don't have a say when the company makes a choice that could impact your income.
6. FlexOffers
FlexOffers is another affiliate marketplace like ShareASale and Commission Junction. You can browse the large list of advertising partners and apply to programs that fit your niche.
Once approved, you can grab your unique link and start promoting companies. Ideally, you would have your own website or social media channel.
7. Find your own companies to earn commissions
Sometimes it's better to find a specific company you would like to promote. So how do you know what companies have affiliate programs?
The easiest way is to look at the bottom of a companies website. You're looking for a spot that says something like "Affiliate Program, Affiliates, or Partner with Us."
You'll see "Partnerships" at the bottom of Best Buy's website.
Clicking on partnerships brings you to the section of Best Buys website where you can learn about their affiliate program.
Each company will have their own terms and conditions. Make sure you read and understand what is acceptable for each advertising program.
Click to Tweet! Please Share!
Click To Tweet
Companies that will pay you to advertise
Making sales isn't for everyone. Companies also need help advertising, which means they need somewhere to show advertisements. Advertising for companies is much easier than convincing someone to make a purchase.
Examples of advertising for companies include adding ad code to your website, wrapping your car for money, passing out flyers at your college's campus, etc.
So which companies will pay you to advertise?
1. Google Adsense
Google Adsense provides you with ad code which you can place on your website. You can also link your Google Adsense account with YouTube to monetize your videos. When someone views or clicks on the ad, you earn money.
Placing ads on your website is one of the easiest ways to make money. So how much money can you make with Google Adsense?
Unfortunately, Google Adsense is one of the lowest paying advertising networks around. Adsense is more popular because it doesn't take much to get accepted and has high ad fill rates. You can expect around $5 to $15 per thousand pageviews.
2. Mediavine
Mediavine is the next step above Google Adsense. You can earn a lot more money by switching to Mediavine. However, not everyone is accepted into Mediavine without meeting certain criteria.
In order to join Mediavine, you must:
Own a website that produces original content.
Your site must have 50,000 monthly sessions per Google Analytics. Also, your website must be in good standing with Google Adsense.
You agree that Mediavine has exclusive access for their advertising partners. In other words, you can't use Adsense while using Mediavine.
Your site must accept the placement of Mediavine ads.
Keep in mind, these are the requirements Mediavine has posted. Your website will be reviewed when you apply.
I've read articles which have stated publishers were denied even though they met the basic criteria. Often, these publishers had most of their blog traffic from Pinterest, high bounce rate, and low time on page.
While I have not yet joined Mediavine, I've heard nothing but great things about this company. I've heard Mediavine has great customer support and you'll get an ad manager. Your ad manager helps manage your website and optimizes ad placement.
3. Adthrive
Adthrive is an ad provider which is the next step above Mediavine. As you can guess, the requirements for joining are even greater.
In order for you to join Adthrive, you must:
Have 100,000 pageviews per month per Google Analytics.
Publish unique content.
Be in good standing with previous ad providers.
Have the majority of your website traffic from the United States.
As you can see, it's going to take a lot of work for you to get approved for Adthrive. However, Adthrive is one of the best paying advertising companies.
4. Wrapify
Wrapify combines technology and advertising to get a fair price for your driving. Get your car wrapped and download the App.
Start the App while driving and Wrapify calculates an estimated earnings by how visible your car was during your drive. This means you get paid more for driving down a busy highway than an old dirt road.
You can earn anywhere from $84 to $400+ with wrapify, depending on many factors including the size of wrap (e.g. Panel, Partial, or Full wrap).
5. Free Car Media
Free Car Media is another car wrap company that will pay you up to $400 to wrap your car. Most of the advertisements are back window ads which nets you about $50 per month. In addition, you will be required to install the advertisement yourself.
6. Carvertise
Carvertise pays around $100 per month for a car wrap advertisement. Some campaigns pay up to $200 per month.
Carvertise allows you the flexibility to say yes or no to specific advertisers, so you can be happy with what's wrapped on your car. Additionally, some Carvertise campaigns will pay you an extra $30 to park your car at a location for a set amount of time.
Click to Tweet! Please Share!
Click To Tweet
Companies that will pay for sponsored content
Sponsored content is when you are paid to promote content to your audience. For example, you might send a tweet, write a blog post, post to Facebook, or upload an Instagram picture.
Companies want to advertise on platforms that a lot of people use. The more people that use a certain platform, the more possible leads, and more possible sales.
What does that mean for you?
You could earn money if you own a high traffic website or an engaged social media account. The more traffic or followers you have the more you could earn. Obviously, it's not easy becoming a social media influencer or building a website.
According to Social Media Today, Khloe Kardashian earns $13,000 to tweet to her 8 million followers! Yes, that is $13k to send one single tweet. People will pay you for being able to get a message in front of people!
So what are some of the best companies who will pay you for sponsored content?
1. Izea
Izea is one of the top blogging networks and works with some of the biggest brands. They bring the brands, so you can bring the awesome content. If you've got a social media presence, you want to be on Izea.
In addition to sponsored content, you can also get paid for freelance opportunities and promoting content.
2. TapInfluence 
TapInfluence is another blogging network which can connect you to numerous brands. Once you create a profile, you can start to see your estimated monthly earnings. Creating an account is free and easy.
3. Other blogging networks
There is a long list of blogging networks which will pay you for sponsored content. The more networks you apply for the higher chance you'll get a partnership. So here is the long list of companies which will pay you to advertise:
IZEA
CleverGirls
Socialix
TapInfluence
Massive Sway
Linqia
Pollinate Media
Social Fabric
Mom it forward
Acorn
Sit Girls
Influence Central
Markerly
Moms Affiliate
Influenster
Mom Central
Cooperatize
Business 2 Blogger
Blueprint Social
Blogher
Double Duty Divas
Sverve
Collectively
Weave Made Media
Influenster
Social Spark
These companies are listed in no particular order. However, if you have a popular social media channel then you should be set to earn some good cash.
Click to Tweet! Please Share!
Click To Tweet
Summary: Which companies will pay you to advertise?
As you can see there are many different companies which will pay you good money to advertise. Companies will pay you through commissions (either Pay Per Lead or Pay Per Sale), advertising on their behalf, or writing sponsored content.
Commissions are earned by giving companies possible leads or selling someone's product. ShareASale, ClickBank, Commission Junction, and FlexOffers are all network companies. Network companies connect multiple companies to advertisers who must apply to join each companies affiliate program.
Other companies, like Amazon or Doterra, offer their own earnings program. You can sign up to advertise for each individual company.
Advertising for companies is much easier than making a sale. Simply display or post an ad and get paid. Often, ad networks for websites come to mind. Google Adsense is for beginners, Mediavine the next step up, and Adthrive for websites of 100,000 pageviews or more.
Otherwise, you can advertise on your car. Companies who will pay for a car wrap include Wrapify, Free Car Media, and Carvertise.
Writing sponsored content can earn you thousands if you own a large social media following or website. Generally, it's as simple as writing an article or sending a tweet. I've listed 26 companies above where you can find writing opportunities.