So you're looking for ways to make money easily at home so you can quit your day job?
I don't blame you. Who wouldn't want to wake up and make money without leaving your house?
You know, wake up to a pot of coffee, check your bank account with a smile, and not have to get dressed for work.
Unfortunately, trying to make money from home can prove to be quite difficult. However, that isn't to say it isn't possible.
Today, I'm sharing with you some of the best strategies for earning easy money from home.
This article may contain affiliate links which pays a commission and supports this blog. Thank you for your support!
How much money can you make from home?
So many people are looking for easy ways to make money while they sleep. However, most people don't want to put in the effort to make it happen.
Working from home is no different. The amount of effort you put into creating an income source directly relates to what you get out of it.
Ask yourself, how much money do you want to make from home?
Earning $100 per month will be way easier than $10,000 per month. This article will show you the easiest ways to make either amount.
There are people who have built $100,000 per month businesses from home. Most people don't come close to that level of success. There's nothing stopping you from doing the same, but you.
Realistically, with consistent effort and time you could very well be earning a couple thousand per month. It all depends on you and the methods you choose to reach your goals.
Click to Tweet. Please Share!
Click To Tweet
How to use your money to make more money
When you start making money from home it's tempting to spend it on stuff you don't really need. However, using your earned income is a great way to earn passive income!
Basically, your money is going to start making you even more money.
You need to learn how to take your money and multiply it. Learning the stock market is the best place to multiply your money.
Dividend stocks and Exchange Trade Funds (ETFs) can be excellent ways to grow your money. If a stock or ETF has a 4 percent yield then you'll get paid 4 percent of your money every year!
Personally, I recommend investing in ETFs like VYM or VNQ for diversification. Both are Vanguard ETFs that I invest in.
The Robinhood app makes investing super easy and understandable for first time investors.
With a few swipes, you'll be buying stocks in no time!
Not ready for the stock market? You could invest in Peer to Peer lending where you lend money to actual people and earn interest in the process.
Freelance writing
If you have some skill with writing then you can make a full time income freelance writing from home.
The internet isn't going away time soon and it needs content! Blogs and websites are always looking for freelance writers to help crank out good content.
But can you really make money as a freelance writer? Yes, the majority of beginners earn between $1-$60 per hour.
As you can see, it wouldn't be unreasonable to charge $50 an hour to write freelance articles.
One of the easiest ways to start freelance writing is through a service like Writers Work. Writers Work takes care of finding clients for you. Now you can focus on writing instead of finding clients.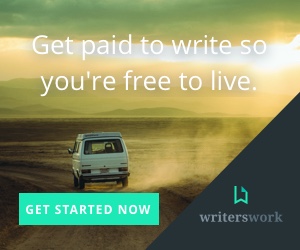 You can try and find your own clients if you're feeling brave. Finding your own clients can be more profitable but requires more work.
Blogging
Blogging takes a long time to master but can be very profitable if done right. Making money online is amazing because you can do it anywhere with an internet connection and a laptop.
As a blogger you'll need to set up a website, write content, get website visitors, and monetize that traffic.
You need to know blogging is a marathon and not a sprint. Some of the best bloggers don't see profit for the first two years. However, if you stay consistent you could be like:
Take a look at some of Michelle's year over year blogging income:
Bloggers can make money by selling affiliate products, writing sponsored content, selling ad space, or offering consulting. Most bloggers earn income through different sources. The best part is that you can make money from home while sleeping!
If you can't create content on a regular basis then blogging may not be for you. You might be right for blogging if you're ok with slow growth and turning your hobby into an income source.
Vlogging
Vlogging is similar to running a blog but much less work. Essentially, your content is all video based and hosted on YouTube.
You can get started with your iPhone. Start recording and discuss your favorite topics and upload it to YouTube.
Maybe you love trading stocks. Start recording your predictions and why you're buying certain stocks. Maybe you'd rather upload videos about your favorite sports team.
It doesn't matter what you pick, as long as you pick something and start making content. If you had to do one thing, make content and put it out into the universe.
Eventually, you'll find that the money takes care of itself. You might get contacted by companies to promote their products. Some travel bloggers get all expense paid vacations so you'll review their hotel.
Sell stuff on Amazon
Things can sell scarily fast on Amazon. Because of this, it's one of the easiest ways to make money with little effort. That is, if you can source products.
The hardest part about starting a home based Amazon business is finding a product supplier. Most distributors won't bother with you unless you have a large retail store.
However, you can become a retail arbitrager. Essentially, you find discounted products in stores and resell them for a higher price on Amazon. It's not as easy as it sounds.
Other methods include dropshipping. Dropshipping involves finding products on other websites and listing them for a higher price on Amazon. You are responsible for buying the product and sending it to the customer when someone purchases the product on Amazon.
Either way, if you can solve how you're going to get products then you can make money easily from home.
Buy a website
Websites are an amazingly simple way to make money from home. If you know even a little bit about running a website this can work great for passive income.
Some people start blogs with an interest and then burn out over time. These websites can generate a few thousand dollars per month. Some people sell their website on sites like Flippa rather than continuing to run them.
Four Pillar Freedom recently purchased such a website. He purchased the property for only $7,000, but it continues to make $700 per month! This website is going to continue to make money, year after year with minimal upkeep.
The key is to finding a website that makes money in a way you're comfortable with. I would much rather own a website that makes money passively through ads than one where I have to stock physical products.
Become a virtual assistant
Companies are moving in the direction of remote workers. Hiring contractors or virtual assistants is an easy way for companies to save money.
Bloggers also need virtual assistants to help run the website. Virtual assistants can manage Pinterest or social media scheduling, perform outreach, collect data, or any other numerous tasks.
There are tons of virtual assistant training courses available online. These courses teach you the ins and outs of starting your own virtual assistant business.
Being a virtual assistant is a good way to make money in the comfort of your own home. You can set your own schedule as long as you don't have a deadline to meet.
Be a consultant
Are you particularly good at something? Do your friends always come to you for advice on a certain topic?
If so, chances are someone is willing to pay for that information. Consultant is just a fancy word for someone who gives their opinions and guidance on something.
You can consult on anything you're knowledgeable about. From weight loss to finances or even fashion.
Create and sell a digital product
One of the best ways to make money easily from home is to create your own info product. Help someone solve a problem with a course and it will be easy to make money.
The first step is to come up with an idea for your course. Is this something people would buy? Do people struggle with the problem? Can you honestly help someone?
Next, you'll need to create the product and host it. Teachable is a good place to start.
Then you need to get that product in front of people. Will you use paid ads, offer an affiliate commission, guest blog, answer people's questions on quora? Find a way to market your product!
Rent a room on AirBnB
AirBnB is such a sweet gig if you're willing to take a risk purchasing a property. You can also rent a room in your house if you'd rather.
My buddy does airBnB and he's making a small fortune on his duplex. He lives in one side but rents out the other. His best month was over twice what he could rent the property.
AirBnB does require some effort to keep the place clean, wash sheets, and keep up with the property. However, most of these tasks can be hired out at some point.
You may not think AirBnB is worth it but people really are staying in them. From soccer tournaments, conferences, work travel, etc, people are using them. If people are renting then you could be profiting.
Survey websites
Taking surveys one of the easiest ways to make extra cash from home. However, you generally won't make a lot of money doing surveys.
Finding a legit online survey website can be difficult. Survey websites are often the target of scammers, so it's important to stay safe online.
Partnering with the right survey company is key to your success. Some sites make reaching payment thresholds an impossible task while others have little to no surveys to take.
One of the best and most trusted survey website is Survey Junkie. Signing up is easy and only takes a few minutes.

Survey websites are great if you've got an extra half hour where you're not doing much. Sit down, watch TV, and mindlessly fill out surveys.
Rent your car
Renting your car is the new renting your home. You can rent your car to pay off your car loan just like renting a house to pay off a mortgage.
Homes are an expensive investment choice and can take many years to pay off. Cars are less expensive and take less time to pay off.
Websites like Turo and GetAround make renting your car easy while minimizing risks. These apps are the AirBnB of car rentals.
You will obviously need to be comfortable with other people driving your car. The apps do have different levels of insurance coverage for your protection.
The best part about renting your car? Being able to make money easily from home and paying it off in the process.
Summary: the best ways to make money easily from home
As you can see, there are many ways to make money easily from home. Determine what methods you want to implement and then take action to start earning cash.
All money earned should be reinvested into something that will continue to pay you. Doing so will allow you to make more money passively and less reliant on earned income.
Use dividend paying stocks, ETFs, or peer to peer lending to increase your passive income.
Other means to make a decent income with minimal effort include buying real estate, renting your car, or owning websites. Real estate can be purchased with bank loans and rented on AirBnB with some upkeep. Apps like Turo and GetAround allow you to easily rent out your car for cash. Purchasing websites on Flippa can produce reoccurring income with little upkeep.
You can also start a small side business to earn easy cash from home. It's less passive but allows you to start earning sooner. Good paying jobs include being a consultant , virtual assistant, or freelance writing. Selling stuff on Amazon can be good if you can source product.
Building an asset can create passive income but takes a lot of work up front with little to no pay. Examples include starting a blog or vlogging on YouTube. Consistent effort can produce huge earnings over the years. Creating a digital product can be profitable if you know how to market the product.
Small amounts of cash can be earned through survey websites. It's easy but less rewarding.