It is easier now than ever to make money online fast.
People are spending more time online and more and more people are shopping online. It's completely possible for you to grab some of this cash!
What if you could generate an income online to pay your bills. How would it feel to make a full-time income online so you didn't have to work a 9-5?
Luckily for you, today I'm going to show you some of the best strategies to make money online fast. Most of these strategies can produce a significant income if you provide consistent effort. Consistency is the key to building a steady cash flow online.
This article may contain affiliate links which pays a commission and supports this blog. Thank you for your support!
Freelance writing
Freelancing is one of the hottest growing professions for people wanting to work from home. You can freelance in anything you have knowledge in, such as, writing, editing, graphic design, math, teaching English, engineering and architecture.
Freelance writing is one of the best and fastest growing forms of freelancing. Blogs and media outlets are growing rapidly and they need someone to crank out content consistently. Freelancers are often cheaper than hiring a full-time employee and the company doesn't have to provide benefits.
Freelance writers can earn a full time income from home. A 2018 survey found beginner freelance writers charge on average anywhere from $0.01 to $0.50 per word or $31.56 to $49.80 per hour.
A freelance network, such as Writers Work, provides you with everything you need to get started. You create an account, log in, and apply for available jobs. You don't have to seek out any clients to start making money!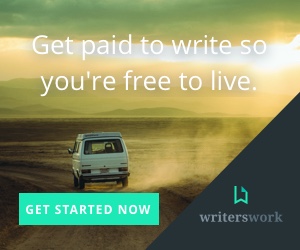 Online surveys
You can take online surveys for money for quick cash earned within a day. Surveys are easy money for beginners looking to make money without paying anything.
Online surveys have the benefit of being easy and fast. Got five minutes? Open your phone and answer a survey for a few bucks.
However, being easy generally means you won't earn a ton of money. However, if you're only looking to make extra money online in your spare time then going with a trusted survey website has it's benefits.
One of the best and most trusted survey website is Survey Junkie. Signing up is easy and only takes a few minutes.
Start your own website
There are so many different income generating websites that you can start. Most websites take time to build up to a full-time income, so don't expect an overnight success. However, building a website can prove to be an asset that continues to generate income once the initial work is complete.
Popular income generating websites include blogs, Shopify stores, drop-shipping, single product websites, and membership websites. Each type of website has a unique monetization strategy, but all require you to get people to that website.
Starting a website isn't easy. However, websites can make good money with online advertising.
Click to Tweet. Please Share!
Click To Tweet
You need website traffic
You can generate traffic in numerous ways. Generally, acquiring website traffic breaks down into two methods, either paid or organic traffic.
Paid traffic comes from paying for advertisements. You might pay for advertising on Facebook to your single product website which sells your product, like an energy drink or protein powder.
You can also pay influencers to post about your product. An influencer is someone with a lot of followers in a specific niche. Imagine sending a Yoga Instragram influencer your a Yoga mat and a few hundred dollars. The influencer provides an honest review of your product which should send targeted traffic to your website.
Organic traffic comes from numerous sources naturally. People might find your content through a search engine, social media post, or friendly recommendation.
Organic traffic is cheap, but hard to get and usually takes a lot of time to generate. Paid traffic is easy to get, but you have to pay for it. Finding a way to get organic traffic while utilizing paid traffic can be a good combination.
Either way, you need to know how your website is going to make money. Otherwise, what's the point of sending people to a website that you can't profit from?
How websites make money
You'll make money differently depending on the type of website you choose. Someone who owns a blog might make their money from private ad sales, while a shopify owner sells physical products.
So what are different ways websites make money?
Affiliate products – sell someone else's product for a commission. You sell a $100 course for a 50 percent commission then you earn $50!
Advertising – selling ad space is one of the easiest and oldest ways to make money. Newspapers have been doing it for years and now websites do the same. Advertising doesn't make as much money as other methods, but it can sure add up!
Your own product– selling your own product is lucrative because you keep 100 percent of the profits. You can sell a digital or physical product. Digital products generally have less overhead and no storage space required!
Sponsorships – partner with large companies who have money to advertise their product. Usually in the form of a product review.
Membership website – You provide premium content to people willing to pay. For example, if you are an expert stock trader then you can sell stock picks for $20 per month. People can cancel anytime. You would make $6,000 per month if you get 300 people to buy your membership at $20 per month.
Donations – Ask people to donate if they enjoy the content. Hard to do, but if you provide value in peoples lives they might pay.
Consulting – You can offer consulting services to people visiting your website. Imagine having a weight loss website with 100,000 visits each month. Converting 1% of those into a $50 weight loss consultation would generate $50,000 per month.
There are numerous ways to profit from a website receiving traffic. You just need to find the method that works for you.
Click to Tweet. Please Share!
Click To Tweet
Buy websites to speed up the process
Another option to make money online fast with websites is buying a website. Did you know that you can purchase websites that are already making money? You can even find websites for purchase that outperform the stock market.
The owner behind Four Pillar Freedom recently purchased a blog for $7,000 that generates $700 per month passively. Without any further work, that blog will generate $8,400 every year!
You can buy websites on Flippa. However, if you don't know anything about websites then you should first attempt to start your own. Learn the ins and outs of website creation before you purchase your first online website.
Investing in stocks or REITs
Dividend stocks and REITs are easy ways to make money online fast if you have initial investment money. The concept is simple, purchase assets that pay you to own them.
Essentially, you purchase a dividend stock or Real Estate Investment Trust (REIT) and they pay a quarterly dividend for being a shareholder.
AT&T is an example of a dividend paying stock. In the picture below, AT&T trades for $34.97 per share with a quarterly dividend (Q) of $0.51. The annual dividend yield of this stock is 5.83% [=(($0.51 quarterly dividend * 4 times per year)/$34.97 share price)*100].
In other words, by purchasing this stock, you will get nearly 6 percent of your investment paid to you on a yearly basis. All you have to do is own the stock! It's that simple.
So let's say you have $1,000 to invest. You could buy 28 shares of AT&T at $34.97 for a total price of $979.16. One year later, your shares pay you an additional $57.09 in dividends. Meanwhile, the price of the stock may increase or decrease.
Your goal should be to find dividend paying stocks that will increase in price over time while paying a dividend.
Exchange Trade Funds (ETFs) are a safer way of purchasing stocks. ETFs are a collection of stocks at one low price. Essentially, you have greater diversity by purchasing 100+ different companies under one ETF.
REITs are another good way to diversify your dividend income. While ETFs focus on stocks, REITs focus on real estate companies. Buy investing in a REIT you'll be part owner of shopping malls, apartment complexes, storage units, and more without doing any work.
Sell on Amazon or Ebay
Selling on Amazon and Ebay is a surprisingly quick way of making money online if you know what you're doing. The key to selling on Amazon and Ebay is choosing products that actually sell and finding a supplier.
If you don't choose quality products then your inventory is going to sit in the Amazon warehouse tying up your capital. Choosing great products and you'll find yourself struggling to keep your Amazon store stocked.
There are a few different ways to find product suppliers, each with their own unique challenges. Amazon has restrictions on what you can and cannot sell. Use the Amazon sellers app to scan bar codes to see what you can sell and estimate your profits.
Retail Arbitrage – Going around town and finding products on clearance that you can sell. You need to know where to look and you can sometimes go days wasting time. Be careful, even if the app says you can sell it that doesn't mean it's completely legit. You might get a complaint from a company saying you are unauthorized to sell their product on Amazon.
Drop-shipping – Involves listing a product on Amazon that you can find cheaper at another online retailer. If someone purchase the product on your Amazon store then you purchase it from the online retailer and ship it to your customers house.
Wholesale supplier – By far the best way to make money on Amazon, but also one of the hardest. Find a wholesale supplier online who can supply you products which you send to Amazon.
Private labeling – Find a generic item like toothpicks and find someone who can make you toothpicks under your own brand. You have exclusive rights to sell that product.
Click to Tweet. Please Share!
Click To Tweet
Summary: How to make money online fast
As you can see, there are many ways to make money online fast. Which method you choose depends on your interests and level of commitment.
Freelance writing online is one of the easiest ways to get started because digital media companies are looking for consistent content. Starting your own freelance writing business takes a lot of time and work. Partnering with a freelance network like Writers Work can help you get clients faster with less work.
Online survey websites like Survey Junkie can be a good way to earn extra cash in your spare time. Surveys are easy which means they won't make you rich.
Starting your own website can prove to be profitable if you're patient. Websites can make money in numerous ways but you'll need website traffic. Purchasing existing websites can be a great investment strategy that makes money with little upkeep.
Buying dividend stocks and REITs are a very passive source of income. Simply own the asset and get paid. The downside is that you often need a lot of money up front to make anything significant in a timely manner. Otherwise dividend reinvestment plans can help you build wealth slowly.
Selling products on eBay and Amazon can be very profitable if you can find product suppliers. Most distributors don't work with unknown names making it hard to find products.