How would you like to make money writing online in the comfort of your own home?
You are your own boss! You can work as much or as little as you want and you don't even have to shower or get dressed.
Although, I highly recommend showering and getting dressed.
Luckily for you, I'm going to show you proven strategies for making money writing online. Writing online has a huge money making potential if you know where to look.
This article may contain affiliate links which pays a commission and supports this blog. Thank you for your support!
Freelance writing
Freelance writing is one of the best ways to make money writing online about the topics you're passionate about.
Did you know that you could earn as much as $100 per hour as a beginner?
Most people don't charge $100 an hour, but it is possible! On average, beginner freelance writers charges $31.56 to $49.80 per hour.
Still, I don't think most of you would complain about making $40 an hour!
Generally, there are two ways to start making money as a freelancer. You can either find your own clients or go through a freelance network.
Finding your own clients can be difficult. However, you can generally earn more money when done right.
A freelance network, such as Writers Work, provides you with everything you need to get started. You create an account, log in, and apply for available jobs. You don't have to seek out any clients to start making money!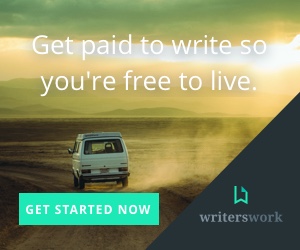 Find writing work on Upwork
Upwork is a freelancers dream if you want to make money writing online. With Upwork, you can create a profile, set your skills, and start applying for freelance work.
Creating an account is completely free and only takes a few minutes. The popularity of Upwork allows you to find clients quickly, so you can spend more time writing.
One of the best parts about Upwork is that you can set your own hourly rate. Quickly browsing through Upwork, I can already see numerous freelancers who are charging $40 or more per hour.
But can you actually make money on Upwork? Let's take a look at Amber's, a content writer and marketer, profile.
You can see from the picture above that her hourly rate is $150 and she's earned over $40,000.
There are two ways you can earn money freelancing on Upwork. First, you can charge an hourly rate where you exchange your hours for a set rate. Second, you can take fixed price project work where each job is done for a set amount.
Fixed price jobs are great for those who can get their work done quickly. Imagine, charging $500 to write an article that only took you 3 hours to write. Your hourly rate would be $167!
Start a blog
Blogging is my favorite way to make money writing online. You are in control over what you write and you own everything. To be a successful blogger, you'll absolutely need to write about what you love.
With a blog, your earnings potential is unlimited and you can even make money while you sleep! Michelle from Making Sense of Cents earns over $100,000 per month from her blog.
Now most of us won't make that kind of money. As a matter of fact, blogging is hard work and you may not even see any money for the first few years.
The basics to starting a profitable blog include:
Find a niche.
Focus on writing helpful content focused on keywords.
Write content. A LOT of content.
Monetize your blog traffic with advertising, affiliate links, consulting, sponsored posts, and more!
Zach from Four Pillar Freedom writes about growing his blog to 100,000 page views simply by being consistent and targeting keywords.
Click to Tweet! Please Share.
Click To Tweet
Make money writing for Medium
Medium is an online publishing platform that allows anyone to publish articles and receive payment for article views. It's almost like having your own blog, but you don't own the website and you have less control over monetization.
You can write short stories, poetry, fiction, or anything your creative soul wants to write about.
If you're consistently writing for medium it is possible to earn over $100 per month. It's estimated that you can earn between $100 and $500 by consistently writing.
It's also assumed that writing marketable content consistently can earn you between $500 to $1,500! You may even earn between $2,000-$25,000 by having a large following and publishing multiple times daily.
In February 2020, the highest earner made over $17,000! That's a lot of money!
Find websites that pay you to write
If you want to be more of a casual writer, then you might want to write for websites when you have the time. Most websites are willing to pay you $40-50 per article.
Simply do a Google search for "Write for us" or "write for us and get paid" and you'll find thousands of websites willing to pay for articles.
But what if you only wanted to write about something you love, like baking. You can do the same Google search, but add the word baking. Thousands of niche websites will pop up with paid writing opportunities.
Each website may have their own requirements and quality standards. Don't take offense to any changes or edits because at the end of the day, your work is going on their website.
Publish your work on Kindle
Did you know you can write a book or poetry and publish it for sale on Amazon's Kindle?
You can even sell your book! Most authors sell their work anywhere from $0.99 to $2.99. So if you sold 10,000 copies of your book then you could earn between $9,900 and $29,900!
The problem is getting your book found in the vastness that is the Amazon Kindle store.
However, another strategy is to give your book away for free! I know what you're thinking, "How am I going to make any money giving away my book for free?"
Free books still earn money based on number of pages read. It's a small rate but you'll have more people download your book if it's free than if they had to pay for it.
The author of the linked article above theorizes they could be earning $22 per day from their 200 page book. To get more downloads they run free campaigns which gives them more exposure.
Click to Tweet! Please Share.
Click To Tweet
Summary: How to make money writing online
As you can see, there are many ways to make money writing online. The key is to find the right balance writing what you're passionate about and making money.
Without having a passion you'll burn out. If you burn out you won't make any money!
So what are the best ways to make money writing online?
Freelance writing is a good business with a lot of work available. You can find your own clients or use a blogging network, like Writers Work.
Upwork is a website where you can post your services and bid on work. It's not uncommon to find freelance writers charging $40-$50 an hour.
Starting a blog can be profitable over time. Don't expect to make money the first couple years, but when done right, can earn you a lot of money!
Writing consistently for Medium may be a good way to earn $100-$500 per month. Publishing more frequently with quality content can earn you big bucks!
Google search "Write for us" to find numerous sites that accept guest posting. You can find many websites willing to pay $40-50 per article.
Publish on Amazon Kindle and get paid per download or per page read. It may be better to give your book away than trying to sell it.
So what's your favorite way to make money writing online? Do you have any success stories or tips for beginners? Are you still wondering if it is possible to earn money online?
Let me know in the comments below!