How would you like to make money every day consistently?
Imagine, having a constant cash flow entering your bank. All you have to do is click refresh and the numbers keep increasing!
The best part about cash flow is that you can build it without a job or that it can even replace your job. It just takes consistency.
Luckily for you, I'm going to show you creative ways to make money from home every day. These methods have all been proven to make money, but nothing is guaranteed if you don't put in the work.
This article may contain affiliate links which pays a commission and supports this blog. Thank you for your support.
What does it take to make money every day?
As I mentioned in the intro, consistent effort is what will help you make your first dollars. Continuing to be consistent is what will make you successful and give you the ability to make money every day.
Some methods discussed in this article are easier than others. It's up to you to choose which method fits your strengths and interests.
One thing you need to understand is that growth is exponential, not linear. What does that mean exactly?
The amount of work you put into a side hustle will be large in the beginning and produce little results. You may work hundreds, if not thousands of hours, and not earn a single penny. However, one day all the hard work you put into your side hustle finally catches up to you and growth keeps on happening.
It's like trying to push a snowball up the top of a hill. You put a lot of work into getting to the top, but once you do it rolls down hill effortlessly growing bigger.
Examples of consistency over time
Let's take a look at a YouTube vlogger. Successful YouTubers make a lot of money from ad revenue and selling products. They have a large following and every video they produce receives hundreds of thousands of views.
Every successful YouTuber started by posting their first video which received little to no views. However, they stayed consistent, producing video after video until their first 100 subscribers turned into 1,000 and eventually 1,000,000.
Ricky Gutierrez has a YouTube channel where he teaches young traders how to buy and sell stocks for profit. He has over 700k subscribers!
However, he has over 47 million video views. Even if his videos averaged 15k views, he would have over 3,000 videos!
Some of Ricky's earlier videos have less than 500 views to this day.
Click to Tweet. Please Share!
Click To Tweet
Make money every day with stocks
There are several ways to make money every day with stocks. If you're serious about making money then you need to learn the ins and outs of the stock market.
The stock market averages an annual return of 10 percent. Actively managing your own investments can generate better than average returns.
How much better can you do managing your own stocks?
A small stock portfolio that I manage has generated 30% ROI in 7 months, roughly 4% return per month. I'm sorry, but I'd rather take my 48% per year of investment gains than getting charged by an "expert" for 7-12%.
That being said, you still need to know what you're doing. I still have a 401k and other investments which are not actively managed. Start small because the learning curve for stocks is steep!
There are several different trading methods. Which one fits your personality?
Day trading – buy and sell stocks on the same day. Uses small changes in the market to profit.
Swing trading – buy and hold a position for more than a day. Find quality stocks that are temporarily down and sell when they recover.
Momentum trading – buy stocks which are on the rise at that particular time.
Dividend investing – buy stocks that are undervalued and pay a dividend. Reinvest the dividends to build wealth and cash flow.
Swing trading is one of my favorite ways to make money with stocks. It fits into my busy lifestyle and I can evaluate my positions once a week.
Real Estate Investment Trusts (REITs)
Real estate investment trusts are similar to stocks, but the company is involved in real estate. Investing in a REIT is basically like investing in real estate without having all the upfront cash.
Personally, I like ($VNQ) which is the Vanguard Real Estate index fund. It's a collection of REITs for added diversification and is currently paying a 4% dividend yield!
You'll need a brokerage like Robinhood to purchase any REITs or stocks. Robinhood is great for beginners and has an easy to use interface. I can literally buy and sell stocks with a few swipes on my phone!
Click to Tweet. Please Share!
Click To Tweet
Peer to peer lending
A simple way to make money is by investing in Peer to Peer lending.
Peer to Peer lending is essentially crowdfunding other people's loans instead of asking a bank for money. You fund the money and you earn the interest.
If a family needs a loan for $10,000, you can pitch in $500 while others pitch in the remainder. The family pays you back through the Peer to Peer company who handles the loan.
Lending Club and Prosper are the two biggest companies for Peer to Peer lending.
The first thing you should understand before investing in Peer to Peer lending is the note system. A note is simply a fraction of a loan that you can own.
Most notes are sold in $25 increments. So for a $1,000 loan there would be 40 notes available ($1,000 / $25). So technically, you only need $25 to get started investing!
Click to Tweet. Please Share!
Click To Tweet
Take surveys for money
Taking surveys for money is one of the easiest ways to make money while doing nothing.
Watching TV? Why not do a survey from your phone.
You won't get rich doing surveys, but what else are you doing with your time? Sometimes finding surveys everyday can be challenging.
One of the best and most trusted survey website is Survey Junkie. Signing up is easy and only takes a few minutes.

Vending machines
Owning vending machines will earn you consistent money if done right. The key to making money is to find a popular location.
Candy machines are a perfect example of this passive income strategy. Owning a candle machine can generate you between $30-$70 per month.
The best part? Purchasing a candy machine is low cost. Usually, you can have the machine paid off in about three months. The rest is profit!
Get paid to walk
There are so many ways to get paid to walk. Usually, it involves downloading an app on your phone, walking, and earning points.
Some companies, like HealthyWage, will allow you to bet on your weight loss. Other companies allow you to earn cash, cryptocurrency, or points which can be cashed in for swag.
Most of these apps will allow you to sync with your Fitbit or other fitness tracker. I'm not sure if you can sync multiple apps at the same time to maximize your rewards, but it could be worth a try!
Ultimately, downloading a few pay per step walking apps could be a good way to score some extra stuff every now and then if you're active. Most Americans take between 5,000 and 7,000 steps per day.
Click to Tweet. Please Share!
Click To Tweet
Build or buy a website
Websites can be huge income generators if you're willing to put in the work. I can't think of a better way to make money every day by owning a website.
Imagine waking up in the morning to find your bank account exploding. It's not even 10 a.m. and you've already made more money sleeping than you did working a day at your day job.
Make no mistakes, building a website takes serious work. However, once it's built it can keep paying you over and over again.
You can also buy a profitable website if you don't want to build one with marketplaces like Flippa. However, I don't recommend buying a website until you've built one or know how to run one.
Freelance writing
Freelance writing is in demand and is one of the best ways to make money every day if you have writing skills.
Websites need content and are willing to pay you for your writing. You can even start by creating an account with Upwork or approaching bloggers on your own.
You are in charge of your freelance writing business. Therefor, you can decide how much to charge for your freelance services.
A freelance network, such as Writers Work, provides you with everything you need to get started. You create an account, log in, and apply for available jobs. You don't have to seek out any clients to start making money!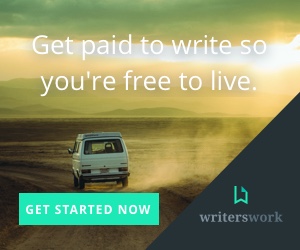 Sell products on Amazon
Amazon is one of the fastest ways to sell products around. You would not believe the goldmine that Amazon FBA is and that you can take advantage of it.
Amazon FBA stands for Fulfillment by Amazon. Basically, you list your products on Amazon and send them to Amazons warehouse. When the product sells, Amazon ships it out.
However, as someone who has sold on Amazon, find the right products to sell and you'll have a hard time keeping your business stocked. The only difficulty is finding someone to supply you those products.
YouTube channel
I've already talked about popular YouTubers, like Ricky Gutierrez and that consistency is key to building a loyal following. But how do you take your YouTube channel and make money every day?
The first and most basic way to make money with YouTube is with advertisements. As a publisher, you may qualify to show advertisements on your videos. You will get paid when someone watches the advertisements.
Selling your own courses is one of the most lucrative ways to make money with YouTube. Ricky has a  stock trading course that sells for $300. Even if he converted one percent of his 710k followers, he would have made $2,130,000!
You can also sell physical goods or affiliate products through your YouTube channel. Popular video bloggers like Philip Defranco have used their channels to promote T-shirts and other merchandise for sale in their own stores.
Sponsorships are another way to make money online. Essentially, you work with a company to promote their product and you get paid for your efforts. You can usually find partnerships with companies through a company called Izea.
Drive for Uber or Lyft
Uber and Lyft are another way to make money daily using your car. According to Gridwise, rideshare drivers earn an average of $15-20 per hour.
Some drivers have even made $1,000 in one weekend! However, most high earning rideshare drivers have a system down that allows them to earn so much.
As you can see from the picture above, drivers with larger vehicles tend to make more money on average per hour. The more people you can transport the more money you can collect!
Rent your car
There are a few different companies that will allow you to make money renting your cars. Some people even earn enough money to pay off their cars. Want a Tesla? Why not buy a Tesla and pay it off by renting it out!
Companies that allow you to make money renting your car include:
GetAround – The concept is simple, when you're not using your car it can be unlocked from the GetAround App. Your vehicle is insured with $1,000,000 auto insurance and 24/7 roadside assistance while your car is being rented.
HyreCar – HyreCar is an app that allows you to rent out your car to Uber or Lyft drivers. One person made $48,000 in one year according to an article on HyreCar's website.
Turo – Turo is similar to HyreCar where you can rent your when you're not using it. Simply sign up for the app, list your car, set your pricing and wait for a rental to come in. Meet with your guest to hand over the vehicle and earn 65-85% of the trip price.
Some car rental companies may have requirements on what vehicles can be rented. For example, you may have to have a car that's been manufactured in the last five years. People would much rather rent a newer car than your 1990 Mazda Miata!
Click to Tweet. Please Share!
Click To Tweet
AirBnB
AirBnB can be an incredible wealth generator if you have a home to rent out. Did you know, with AirBnb, you can make more money than simply renting your home with a property management company?
I have a coworker that is renting his house out on AirBnB and it's going well. Some months bring him in more than twice what he could have rented his place for through a property management company.
Yes, self managing is more work, but it's more profitable.
Don't have your own place to rent? Some people purchase a home using a loan from a bank with the intention of renting it out on AirBnB.
Become a virtual assistant
Virtual assistants make money every day with their laptops by working for other people, like bloggers. Starting your own VA business is something that can continue to earn money from home and quit your 9-5 job!
Virtual assistants do things such as research, send emails, and any other online tasks that they are hired to do. Virtual assistants can make anywhere from $15 to $30 an hour.
A lot of bloggers need virtual assistants to help support their blogs everyday tasks. Since blogs are opening every day, the demand for virtual assistants is increasing.
Teach English online
Teaching English online is another way to earn money while having complete freedom over your time. When you teach English, you can make your own schedule and do it from anywhere with an internet connection.
Online English teachers earn anywhere from $10 to $25 per hour. Teaching English is a common way to earn extra money while transitioning from a 9-5 to your own home based business.
Click to Tweet. Please Share!
Click To Tweet
Summary: How to make money every day consistently
If you want to make money every day consistently then it's going to take consistent effort to build your income streams. Luckily for you, we discussed numerous methods that actually make money. You just need to pick the method that works for you and stay consistent.
Methods for earning money every day
So which method will you choose:
Make money trading stocks – Learning the stock market takes time, so start small. Learn the basics and you can earn some serious money as a trader. I highly recommend you learn how to invest even if it is just to invest your profits.
Peer to Peer Lending – Peer to Peer Lending allows you to invest your money into families in need. P2P lending is a good alternative to the stock market
Paid online surveys – Paid surveys won't make you rich, but they can bring in money consistently. Surveys are great for when you have some down time.
Vending machines – Finding the right location for a vending or candy machine can bring you a monthly passive income. Good candy machine locations can bring you $30-70 per month, paying off the machine in about 3 months.
Get paid to walk – There are several apps that will pay you to walk, but any won't earn you a ton of money. Each app pays differently, so find the right one that fits your lifestyle and needs.
Websites – Buying or building a website is a long journey, but can provide passive income that continually pays.
Freelance writing – A good way to earn money quickly and consistently.
Sell on Amazon – Find a good product supplier and you're set for making money consistently online.
YouTube channel – consistently produce content and make money from advertisements, merchandise sales, affiliate products, and courses.
Make money with your car – Use rideshare apps like Uber or Lyft or rent your car for others to use.
Virtual Assistant – VA's help businesses grow, like an office assistant.
Teach English – Easy way to earn money every day consistently.
How do you make money every day? Let me know in the comments below!