Do you want to sell products for companies and get paid?
You can make a full-time income from home by selling products for companies. Getting paid is as simple as finding a profitable product and showing it to an audience. You can sell products through affiliate marketing, eCommerce, and direct sales.
How would you like to make a full-time income from home? Imagine, starting your own side hustle that makes as much or more than your 9-5.
People are selling products every day through social media and the internet. The best part? You can do the same.
Luckily for you, I'm going to show you the best ways to sell products for companies and get paid. With enough work, you could make money from home.
Key Takeaways
Companies that pay you to sell their products online include those partaking in affiliate marketing programs, direct sales, wholesalers, and dropshipping.
Profitable products are both high-paying and high-converting. Look for products with good conversion rates, but also pay a good income per sale.
Digital products and courses have high profit margins, low cost of creation, and only require you to make once. Therefore, digital products are one of the best products to sell from home.
Selling products from home requires a fast internet, computer, business license, bank account, credit card, online store, and means of bookkeeping. You may also be required to have an IRS Employer Identification Number (EIN) depending on your business structure.
This article may contain affiliate links which pay a commission and supports this blog! Thank you for your support!
What companies let you sell their products?
You can buy and resell any companies product. However, some companies will offer you a commission for selling their products. The best way to make money selling products is through affiliate marketing, direct sales, whole sale, and drop shipping.
You just have to figure out how you're going to sell the products.
So what are the different ways you can recommend branded products?
1. Affiliate Marketing
Affiliate programs allow anyone to promote a companies product and get paid. Simply sign up, recommend a product, and earn when someone buys. All you have to do is convince someone to buy a product through your affiliate link.
Affiliate marketing works great for selling products online.
As a blogger, I might write an article about dog treats. My review of different dog treats might cause someone to buy. The reader clicks on a link which takes them to Amazon where they can buy the dog treats. I would earn a small amount of money for sending a customer.
Where can I find affiliate products to promote?
There are many places you can find affiliate products. Personally, ShareASale is one of my favorite places to find products.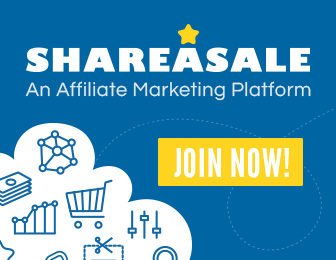 ShareASale is an affiliate network. Companies who need help advertising turn to ShareASale and other networks to find people who can promote their products.
Therefore, you have access to thousands of merchants in one place. I can find many products to promote from a variety of companies in a matter of seconds.
However, just because a company is on ShareASale does not guarantee success. You will have to apply to each merchant to promote their products. The merchant reviews your application and will approve or deny you.
Your chances of being approved are better if you have a popular website. Companies don't know you, so it's hard for them to approve an unknown. Having an established website let's the company know you're a cool dude!
2. Direct Sales
Direct sales companies offer a line of products which you can sell. The only way a customer can purchase the products is through someone who sells them.
The benefit of selling direct sales is that you can work under the companies business license. You also have exclusive products which can only be found through distributors.
The downside is that direct sales and other multi-level marketing companies have a bad rap. Often, people see direct sales companies as pyramid schemes. You may also have a hard time selling to people who have experience pushy sales people.
Personally, I have known people who have done well in direct sales. One couple managed to build a $40,000 per month direct sales business. Unfortunately, the company was fined by the Federal Trade Commission for being a pyramid scheme and the couple lost their income, overnight.
Therefore, you should proceed with caution in direct sales.
What direct sales company is the most profitable?
Any direct sales company which you are interested in will be the most profitable. Selling becomes easy when you have a passion for the companies products. It's easy to lose interest and not earn money when you don't care about the products.
However, you can measure a companies profitability by their revenue. So, what are the top direct sales companies?
Amway
Herbalife
Avon Products
Vorwerk
Infinitus
Natura Cosmeticos
Mary Kay
Coway
Meleluca
Nu Skin
The number one direct sales company is Amway. Amway has numerous household products. Therefore, if someone likes one of their products then they are likely to buy others.
You can see the full list of 500 direct sales companies. Remember, look at the companies business model. Is this a company you want to promote?
You should also focus on consumable products. When someone finishes their shampoo they need to buy more. Therefore, you will earn more money by focusing on products with repeat customers.
How do you succeed in direct sales?
Succeeding in direct sales is all about one thing, helping others. People fail in direct sales when they try to be salesy. Instead, focus on helping people over selling products.
Imagine, you are trying to sell weight loss products.
Too often, distributors try and fire-hose potential customers with information. A lot of people in direct sales might stop people on the street to pitch their product. No one cares and they just want you to leave them alone.
Try to build relationships with people!
Instead, you could offer an exercise class for weight loss. Offer the first class for free with the option to buy additional classes. After class, offer your services as a weight loss coach and accountability partner.
Again, the first consultation is free. Extra meetings could cost money or they could get a discount for buying your weight loss products.
The important thing to remember is to not shove your product in someone's face. Treat customers like people, give them something of value, and then mention the product.
3. WholeSale
Wholesale is when you buy products at a discount from a distributor or manufacturer with the intent to resell. You will need a business license and a reseller's permit to buy products wholesale.
For example, you find dog treats that you want to sell. You contact the manufacturer who tells you where you can find a distributor. The distributor may sell you the treats for 30% off of the retail price.
Now, you can buy the treats for 30% off and sell them at retail price. You are now making 30% on your money with every sale.
Wholesaling can be very profitable.
Unfortunately, finding a wholesale supplier can be hard. Not only do you have to find a supplier, but you need to find one with profitable products.  Suppliers may not want to work with you either, until your an established business.
How do you find wholesale suppliers?
You can find wholesale suppliers online and through trade shows. Finding a supplier who would be willing to work with you may prove difficult. However, finding a good supplier can be worth the wait once you start selling products.
The best way to find a supplier is by attending a trade show, like ASD Marketweek. Trade shows will allow you to network and meet face-to-face with vendors.
It's easier to ignore an email than a meeting in person. Most of your online efforts when you're getting started will be ignored. Therefore, trade shows are the best ways to get suppliers.
If you already know which products you want to sell then you can start online. Go to the companies website. For example, let's go to West Paw to see about becoming a reseller.
You'll see there is a place for retailers at the top right. Clicking on Retailers brings us to the retailer login screen or application process for new retailers.
If you click "Learn More" you will be sent to the Authorized Retail Partner application. From there, you can apply to sell West Paw products.
You should note that each company has their own rules for retailers. For example, West Paw does not accept people who only sell on Amazon, eBay, or other online stores.
You can also find suppliers on websites like Wholesale Central. However, it's going to take a lot of sifting, applying, and frustration to find a good partnership.
4. Drop Shipping
Drop shipping involves selling a product on one website that you can find cheaper elsewhere. You place the order on the cheaper website when a customer buys a product. The cheaper website then ships the product directly to your customer.
For example, you can find a 10-piece screwdriver set for $22.97 at home depot. On Amazon, someone is selling a four pack of the screw drivers for $97.12 ($24.28/item). Therefore, selling a four pack would earn you $5.24, not counting Amazon fees.
To increase your profits, you can use online cash back programs like Rakuten and cash back credit cards. Instead of credit cards, some may want to purchase discounted gift cards through Gift Card Granny.
You have to be careful when drop shipping. The product might not be available when you go to place an order. You might also find the prices change on some websites, causing you to lose money.
Customers may also feel betrayed when a Home Depot box shows up at their door. A quick Google search would show they could have gotten the item cheaper elsewhere.
Click to Tweet! Please Share!
Click To Tweet
What is the most profitable product to sell?
The most profitable products to sell are the highest paying and converting. You need a product that converts people into customers, at a great price.  More money is earned with a higher price and conversion rate.
Let's consider two products. The first product sells for $100, but only converts 1% of people to customers. The other product sells for $15, but converts 25% of people into customers.
Assuming you send 100 people to both products, the $100 product earns $100. The $15 product converted 25 people, earning you $375. You earn more with a lower priced product because it converts more people into customers.
The goal is to find high priced products which convert well. I'm a huge fan of finding products through ShareASale, because they show you the conversion rate.
The product above has a huge conversion rate of 26 percent! However, the commission is small at $1.39. This product is estimated to earn you $36.36 for every 100 clicks, which isn't too shabby!
What products are good to sell online?
Digital products and courses are the best products to sell online. Profit margins are high when it comes to digital items because the product only needs to be made once. Sales after production are 100 percent profit.
You can create and sell digital products you make. Alternatively, you can sell products for companies who already have online products.
For example, Alex and Lauren of Create and Go earn over $200k per month online.
How do Alex and Lauren make so much money? The majority of their income comes from selling digital courses they made. Courses are sold through their blog where they focus on teaching others how to make money online.

Each course sells for around $200. However, Alex and Lauren offer an affiliate program which allows others to sell their courses. Now they have an army of people promoting their products for them!
Click to Tweet! Please Share!
Click To Tweet
What do I need to sell products online?
To sell products online, you'll need to have a computer or laptop with fast internet, an account on your selling platform of choice (personal website, FB marketplace, Instagram, Etsy, etc.), and a business license depending on your state.
1. Fast internet
Few things will make you give up on your online store faster than bad internet service. Make sure you're all set up at home to efficiently dedicate the hours you need to get your store up and running. Plus, don't forget to save your Wi-Fi and electronic receipts – these are tax-deductible when it comes time to pay taxes on your store earnings.
2. Online store
Second, you'll need to set up your online store. Some platforms, like most social media accounts, are free. Other platforms, like creating a personal website, require you to pay for a domain name and annual web hosting.
Shopify is one of the most commonly used companies for building an online retail store. Spotify helps you create an online storefront for physical products. However, you can also use any of the following Shopify Alternatives:
WooCommerce
Wix
BigCommerce
Social media accounts can be good for selling affiliate products. Things to consider when choosing a social media platform as your storefront include:
Identify the product(s) you want to sell and determine where your audience hangs out. For example, selling clothing may work well on Instagram.
Can you post quality content 5-10 times per day to build your audience?
Have you consulted the social media platforms terms of service to see if affiliate links are allowed?
How can you diversify your online presence so you don't lose your business if you're banned from the platform?
Lastly, some individuals start a blog with the intent of selling products. You create quality content, attracting readers through Search Engine Optimization, and mention products you're selling.
3. Business license
Third and perhaps most importantly, most states require a business license or registration to sell products online. Business licenses ensure you pay taxes on any of your profits and allows you to legally operate as a business. A business license costs between $50 and a few hundred dollars, paid annually.
You cannot sell online without a business license if your intent is to make profit. Hobbyists don't require a business license, but the general rule of thumb is making over $400 in a year requires a license.
In most cases, you can apply through your State to get a business license.
Simply Googling 'business license your state' can help you identify your legal requirements for operating a business. For example, Googling 'business license Washington State' brings up the Washington State Department of Revenue.
The WA Department of Revenue then specifies further requirements for registering your business and applying for a license. Examples requirements include:
Registering your business

Any business requiring city and state endorsements.
Gross business income of $12,000 or more per year.
Hiring employees within 90 days.

Selling a product or providing a service requiring the collection of sales tax.
Check for your State's specific requirements to see what is required for obtaining a license.
In General, it can take up to a few months before you receive your business license.
4. Employer Identification Numbers (EIN)
You may also be required to obtain an Employer Identification Number. EINs are commonly known as Federal Tax Identification Numbers (TIN). You can obtain a EIN number through the IRS website.
Sole Proprietors do not need to file for an EIN. Instead, your business taxes will be filed on your personal tax filings. However, your business is still required to pay quarterly taxes through your State and via the IRS payments.
The IRS does require you to have an EIN if you meet any of the following:
You have employees.
Your business operates as a corporation or partnership.
You file tax returns as Employment, Excise, or Alcohol, Tabacco and Firearms.
You withhold taxes on income, other than wages, paid to a non-resident alien.
Your business has a Keogh plan.
You are involved with the following types of organizations:

Trusts, except certain grantor-owned revocable trusts, IRAs, Exempt Organization Business Income Tax Returns.
Estates
Real estate mortgage investment conduits
Non-profit organizations
Farmers' cooperatives
Plan administrators
5. Computer or Laptop
You're going to need a computer or laptop in order to have an online business selling products for companies. Most online businesses don't require anything overly expensive. Personally, I've found purchasing a laptop at Costco as one of the best places for business equipment and computers.
6. A business bank account and credit card
As a business owner, you're going to need your own business bank account and credit card. Do not try to use your personal bank account and credit card because keeping your books becomes more difficult. Eventually, you may want a bookkeeper and certified public accountant who will need access to your accounts.
7. A means of bookkeeping
As a legal business, you are required to keep track of your expenses and income. Some entrepreneurs use Google Sheets or Excel to track their books, but most professionals use Quickbooks online.
You may even decide to hire a bookkeeper. Your bookkeeper will link your bank account and credit card to Quickbooks online and categorize each expense. Some bookkeepers will even file your quarterly taxes and send you monthly profit and loss statements.
My personal recommendation is to hire a bookkeeper as soon as possible. You'll spend more time working on your business than managing your books.
8. Certified Public Accountant
A Certified Public Accountant can file your taxes and give you tax advice.
What are the problems faced by online sellers?
Selling products online can bring challenges just as opening a physical store would. You'll need to make yourself stand out from the competition, create customer loyalty, handle returns and refunds, and keep customer data safe.
The first challenge is to make sure your prices and products are competitive. If you're selling the same clothes from a wholesaler as 100 other online stores, for example, yours will need to have something that makes it stand out. This could be anything from the packaging to pricing to web design. If you're selling high-end products, on the other hand, you'll focus more on creating your brand as opposed to pricing.
Second, as you build your brand, you'll need to create customer loyalty. This is how your products will become recognized and recommended among social groups, creating natural advertising and growth. Things to include in this may be email newsletters, a social media presence, and growing positive customer reviews.
Third, you'll need to have solid control over refunds, returns, and exchanges. Customers value customer service almost as much as they value the product itself – or more so!
Finally, you are in charge of keeping your customer's data safe. That includes their mailing address, credit card numbers, and email address. Having a system that protects against both spam and hackers is key to keeping trust with your customers.
Summary: Sell products for companies and get paid
As you can see, it is possible to earn money online by selling products for companies. You just need to know how to get started and take action towards building online income. Affiliate marketing, direct sales, wholesale, and drop shipping are proven methods for making money.
Affiliate marketing involves earning a commission for selling a company's product. Personally, my favorite place to find affiliate products is through ShareASale. However, there are plenty of other companies which will pay you for advertising.
Direct sales companies offer a line of products which you can promote. You work under the companies business license, so it's easier to get started. Unfortunately, direct sales has a negative tone for a lot of people which can be difficult to overcome.
Wholesale involves buying a product from a distributor or manufacturer with the intent to resell. You'll need a business license and a reseller's permit. You can find suppliers through trade shows and by searching online. However, it can be difficult to find suppliers when you're just getting started.
Drop Shipping involves listing products on one website which you can find cheaper elsewhere. You actively fill orders when someone buys the product. Drop shipping allows you to not carry an inventory, but you don't control the inventory. Therefore, it is possible to run into inventory or pricing problems with drop shipping.
The best products to sell are the highest priced and converting. If a product doesn't convert then you won't make any money. Once a product converts, then focus on increasing profit margins through price.
The best products to sell online are digital courses and products. Digital products are low-cost to make because you only need to make them once.